"Well Enough" RH Virtual Event to Focus on Keeping the Mind Well via Zoom Webinar (5/6)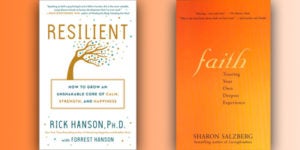 Rick Hanson, PhD, author of RESILIENT: How to Grow an Unshakeable Core of Calm, Strength and Happiness (Harmony) and Sharon Salzberg, author of FAITH: Trusting Your Deepest Experience (Riverhead) will be talking with Kalia Kelmenson, the editorial director at Spirituality & Health, about keeping the mind well, during this week's "Well Enough" Random House virtual event via Zoom Webinar (sign up here) on Wednesday, May 6, at 7:30pm (ET).
In RESILIENT, Dr. Hanson presents a step-by-step guide, grounded in the science of positive neuroplasticity. He explains how to overcome the brain's negativity bias, release painful thoughts and feelings, and replace them with self-compassion, self-worth, joy, and inner peace.
In FAITH, one of America's most beloved meditation teachers offers discerning wisdom on understanding faith as a healing quality. Through the teachings of Buddha and insight gained from her lifelong spiritual quest, Salzberg provides readers with a road map for cultivating a feeling of peace that can be practiced by anyone of any tradition.
As a reminder, if you are a PRH employee posting to a personal or other non-PRH account, you must include the hashtag #TeamPRH !! 
Posted: May 5, 2020