Wendy Lamb and Tanya Lee Stone Talk About the Importance of GIRL RISING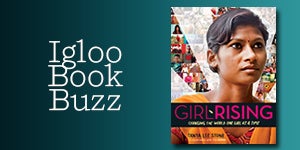 This week's Igloo Book Buzz selection is GIRL RISING, by award-winning author Tanya Lee Stone, published by Random House Children's Books imprint Wendy Lamb Books. Created in collaboration with the makers of the film, Girl Rising, this is a stunning and important nonfiction work. The film chronicled the stories of nine girls in the developing world, allowing viewers the opportunity to witness how education can break the cycle of poverty. The book shows how educating girls in developing countries can vastly improve their quality of life in just one generation.
"I had to publish this book—the topic is so important, and the stories of the girls in the stunning film by Girl Rising that inspired it are so powerful and affecting," said Wendy Lamb, Vice President and Publishing Director, Wendy Lamb Books. "I knew that Tanya Lee Stone would find just the right approach to take the stories in the film in a new direction in her book. GIRL RISING is a call to action for America's young people. This book has the potential to inspire readers to become a force for lasting change."
Tanya Lee Stone said, "Working on GIRL RISING changed me. It expanded my scope of the world and inspired both deep compassion and extreme awe. I was continually conscious of the comforts I take for granted while I work from my warm house, with plenty of food, clean water, and free school for my children. I am eternally grateful for the education I gained from discovering these girls and women who persevered through the darkest and direst of conditions."
In conjunction with the team behind the Girl Rising film and Ms. Stone, Random House Children's Books launched the #MyGirlRising social media campaign last week. The goal of the campaign is to find and highlight women around the world who are making positive changes in their communities.  It's easy to join the #MyGirlRising conversation:
Post a photo on Twitter and/or Instagram and nominate the inspiring girl or woman in your life.
For each picture posted using #MyGirlRising, @RandomHouseKids will donate $5 to @GirlRising (up to $5,000) in celebration of the new Girl Rising book and women everywhere.
Follow the hashtag #MyGirlRising on Twitter and Instagram.
Posted: February 13, 2017