Westminster Team Takes Third Place in Literacy Council of Carroll County Spelling Bee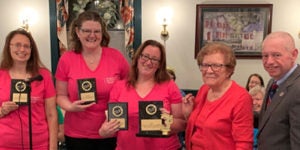 Penguin Random House colleagues based at our Westminster distribution center had 4 teams participate in the Literacy Council of Carroll County's 20th Annual Spelling Bee last month.
One of our PRH teams, The Spine Crackers, came in 3rd Place. The Spine Crackers consisted of Esther-Marie Emslie (C/S), Bridgette Bowlin (BeAS) and Tammie Harris (Initials)
The other PRH Westminster teams that participated were:
Spellerellas: Terry DeFelice, Kathy Bailey, Diana Rodgers, and Ali Stuard (Accounting)
Odem Paydem: Nancy Cook, Shannon Kazstejna, and Mollie Schultz (BeAS)
Random Spell Casters: Sandy Hartman, Bev Hood, and Sylvia Shoemaker (Customer Service)
Congratulations and thank you to everyone who participated!
Posted: May 23, 2019