What is Crazy Faith? WaterBrook Author Michael Todd Tells Us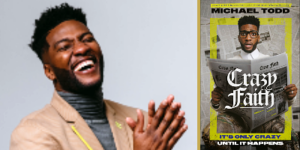 Michael Todd is author of the #1 New York Times bestselling book, RELATIONSHIP GOALS, and the just released New York Times bestseller, CRAZY FAITH, both titles published by WaterBrook. Michael is also the lead pastor of Transformation Church in Tulsa, Oklahoma, and his Crazy Faith sermon series has been viewed more than 11 million times on You Tube.
"Pastor Michael is an energizing voice for this generation," says Tina Constable, EVP & Publisher, WaterBrook & Multnomah, Convergent, Image, and Forum. "He incorporates contemporary methods of communication with messages and sermons based on Biblical truths that are reaching a young multi-ethnic Christian audience. His books help readers serve God in a modern world."
WaterBrook Editorial Director Andrew Stoddard comments, "Through consistency and faithfulness, Michael Todd has experienced a meteoric rise to become one of the most influential faith voices in our time. Humble, passionate, dedicated, and courageous – Pastor Mike seeks to draw out God's best in the lives of his readers. He's personally lived the message of CRAZY FAITH and wants to energize anyone who is bold enough to pick up this book to do the same."
In this Behind the Pages Igloo Interview, Michael Todd shares his inspiration for the writing of CRAZY FAITH, his reaction to being a #1 New York Times bestselling author, and his hopes for what readers will take away from his words.
What was the inspiration for CRAZY FAITH?
So many things that seem normal today were crazy five minutes ago. (Okay, sometimes more than five minutes. But a lot can change in a very short amount of time.) Once we recognize that, it's reasonable to acknowledge that many things that seem crazy to us right now could be normal in the future. Your student loan debt erased or your six-figure mortgage paid off seems crazy. Getting your ten-year sobriety chip after abusing substances for decades sounds crazy. Leaving an inheritance of wealth for your great grandchildren after you grew up in poverty seems crazy. Recovering from what seems like an unending downward spiral of depression to wake up with real joy sounds crazy. Finding out your wife is twelve-weeks pregnant after a diagnosis of infertility seems crazy. Being the first in your family to graduate college when you're a single mom who barely finished high school seems crazy. Being truly loved in a healthy marriage after suffering years of verbal, physical, emotional, or sexual abuse sounds crazy. Forgiving your absent father sounds crazy. Leading a thriving megachurch with only six months of junior-college education sounds just plain crazy.
But it's only crazy until it happens.
My newest book CRAZY FAITH was born out of the miraculous experiences in my own life and is written for all those people who have something in them that believes the impossible, that knows greater is inevitable, that trusts destiny is unavoidable, and that is intrigued by the possibility of a miracle. This is my life message because this is the life I'm living: one of Crazy Faith. God has asked me to do some crazy things, and I've seen crazy results because of faith. Through this new book, I want to be a coach and a guide by sharing spiritual truth and practical wisdom to help others gain new perspective on God's plans for them: a future they've barely dared to imagine.
What did it mean to you that your first book RELATIONSHIP GOALS was #1 on The New York Times bestseller list?
For me personally, beyond the amazing growth and success I've been able to witness surrounding my church, Transformation Church in Tulsa, one of the craziest gifts I've been honored to receive came soon after the release of my first book, Relationship Goals, when it became a #1 New York Times bestseller. To this day, I have no idea how that happened; and even writing the words feels crazy, because at certain points of my life, none of it seemed achievable.
What do you want readers to take away from CRAZY FAITH?
More than anything, my hope is that this book challenges people in the best ways and helps them claim a promise or future they haven't believed to be possible. Maybe the thing they wrote down in their journal seems crazy now, but it's only crazy until it starts raining. Maybe they're faithfully working a job they don't really like so that they can remain financially stable until the side-hustle, entrepreneurial venture they've been passionately pursuing takes off. Maybe people are telling them to give it up and settle for a nine-to-five, but something inside them can't let go of what they believe God told them would happen. But maybe—just maybe—what seems crazy in one season will be counted as faith in another. It's only crazy until it happens, and maybe the fact that we stick to our guns and stand firm in our faith will be the deciding factor in someone else's heart and help them turn his eyes toward Jesus!
God wants us to be His modern-day heroes. He wants people to be able to look at the faith we have and model their own after it. The faith we have to start the business in the middle of an economic crisis, to believe for a healing that doctors deem impossible, to let go and move forward after a devastating heartbreak—our Crazy Faith is what He wants to use to make a miracle happen.
Posted: October 8, 2021