What We Do: Distribution & Fulfillment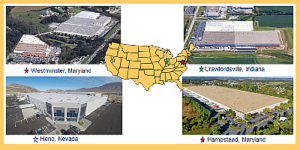 Welcome to the debut of "What We Do," a new Igloo series that will go behind the scenes of several of Penguin Random House's signature divisions to explain how they function, and to introduce you to some of the colleagues who keep them operational at peak performance.
This inaugural installment, which focuses on our Distribution & Fulfillment Group, has been in the works for some time, and is launching today in the wake of Maryland Governor Larry Hogan's announcement about the expansion of our Maryland distribution operations. Nationally, over 1,800 employees strong are working in four geographically positioned distribution centers: our supply chain—widely acknowledged as the gold standard for trade publishing—and the beating heart of Penguin Random House.
What Is Our Supply Chain?
Annette Danek, EVP, Supply Chain: "Simply put, our supply chain is comprised of books and book-related processes, physical and digital, orders, and payment from our bookseller customers. Once books are printed and bound by outside printers, they are received and stored in one of our four distribution centers. Books are packed in full carton and loose locations. Once an order is received and processed via customer service or EDI order processing, our floor staff picks, packs and ships the requested titles to our customers. So, we need inventory, and we need orders – which we receive from multiple national accounts and local independent booksellers. The inventory and amount of orders we receive dictate our warehouse size, locations, capabilities, and employee count, and the shifts our staff work." Danek adds, "Supply chain is books, buildings, systems, infrastructure, and people. Picking the right people to pick the right books is most important."
Under Danek, our Distribution & Fulfillment senior leadership team includes Vince Annoreno, SVP, Distribution & Maintenance, Westminster & Hampstead; Lori De Reza, SVP, Crawfordsville & Reno Operations; Alison Martin, SVP, Customer Service and Customer Support & Analytics; Valerie Van Delft, SVP, Logistics; and Alyssa Oles, VP, Fulfillment Operations & IT Services.
A complete portrait of the Distribution & Fulfillment process would require reporting that could fill several complete issues of our Igloo Daily Bulletin. Here, we offer highlights of D&F processes, and insights from several of the colleagues that undertake them.
Operations: Our Basic Processes
Initials and Reorders
"Initials" is the process of picking, packing and shipping newly released titles on a tight schedule designed for titles to land at bookstores nationwide in time for their assigned on-sale dates. Initials are currently handled from Westminster's Hahn Road warehouse and from Crawfordsville.
Post-on-sale-date, orders are processed from Westminster's Bennett Cerf warehouse, Crawfordsville, Reno, and Hampstead, and are then considered "Reorders," with further incoming title stock going directly to them. The Reorders facilities are a fine-tuned link in the supply chain, designed to minimize the time between receiving a customer's order and delivery of the books to bookstores.
"Picking" – Books are picked by loose copy, full carton and full pallet. Our picking methods include voice automation and radio frequency. Our full carton and pallet picking utilizes forklift trucks. Conveyors carry the product to the shipping dock, where we ship our books throughout the world.
"Sorting" – In 2009, we installed a highly complex Sorter in Westminster, featuring a 712-foot-long tilt tray sortation system that improved our throughput time by nearly 50%. This system, along with other enhancements allowed us to: 1. Fulfill our mandate to deliver our books faster than the competition; 2. Create a more effective and profitable partnership for our booksellers. The sorter has the capacity to induct over 8,000 books per hour, to be scanned and packed at one of 400 stations, staffed by colleagues.
Utilizing radio frequency equipment and our Warehouse Management System, arriving books are quality inspected, barcodes are checked for scanability, weights and measurements are entered into the system, and a license plate is assigned to each pallet. This allows us to track every aspect of the stock on the pallet until it is fully depleted.
As our distribution centers evolve, we will continue to initiate fresh approaches and distribute first-time content, such as comics. Marvel Comics, a PRHPS client publisher, begins its multi-year worldwide sales and distribution agreement with PRHPS in October, via the Hampstead and Westminster centers.
Introducing Our Four Distribution Centers
Westminster (1.5 million sq. ft. , approximately 900 employees) First opened in 1967 as the Random House Operations Center, Westminster has been expanded and repurposed over several regimes. Upon the 2013 Penguin Random House merger, 1 million units were moved from former Penguin warehouses to Westminster and Crawfordsville, necessitating further expansion. Building 7, a 190,000 square foot storage facility, opened in 2018, and enabled us to increase our capacity upon Penguin Random House and distribution client growth. Contains 14 miles of conveyors; 6,000 light bulbs; 300 scooters + forklifts; and 83,000 different titles in stock at any time.
Crawfordsville (1 million sq. ft., approximately 800 employees) Dates to the 1970s; the Crawfordsville facility was purchased by Random House in 2001, when it was decided to ship all of our kids' books out of that location. Following the PRH merger, another building was added in 2014. Covers about 18 football fields and contains over 6 miles of conveyors; two tilt tray sorters.
Reno (244,000 sq. ft., approximately 70 employees) On January 2, 2020, the location, formerly run by Baker & Taylor, opened its doors for the first time as the new Penguin Random House Operations Center in Reno, Nevada. Penguin Random House quickly began shipping our books from there to accounts across the western states.
Hampstead (1 million sq. ft., approximately 100 employees) In August 2020, Penguin Random House took occupancy, with a multi-year lease, of a new location in Hampstead, Maryland, just 10.4 miles from its main sister facility in Westminster. This fourth PRH distribution center enhances our capability and flexibility to expedite bookseller initial and reorder shipments for our imprints' frontlists and backlists, and for those of PRHPS clients.
Meet Six of Our Colleagues
Members of our Distribution & Fulfillment team talk about their jobs and service:
Vicky Stonesifer, Supervisor, Customer Support & Analytics, Westminster (21 years in October): "I do the customer match for all new clients coming on board. With a recent large client that was onboarded, we split about 65,000 accounts between reps in Customer Service and Customer Support & Analytics. With helping hands from both groups, we met our deadline. A huge accomplishment for all!"
"G" Patel, Group Leader, Reorders – Loose Pick, Westminster (15 years): "When I worked part-time, I learned order picking, small wrap, case seal, carton erectors (done by hand then). The company started voice picking around 2007, when I became a super user and trained many employees. I'm currently a Group Leader for Reorders – Loose Pick, a role I've been in since 2009. I'm fully trained on the Sorter and am also Goods-To-Person super user. I love learning any new technology that comes along."
Tangie McMasters, Supervisor, Shipping, Crawfordsville (15 years): "After working in Returns, I moved up to Group Leader. I left the company for a brief period to raise my kids after I had my youngest, but then came back because I loved my job and the people I worked with. It felt like coming back home."
Catalina "Cathy" Cruea, O.P.3, Loose Pick, Crawfordsville (4 years): "I do my best with every book that I pack, because I hope it will put a smile on the person's face when they receive it. I do my job with great pride – especially since my name gets put in a box [yellow name slips with this message, 'This box was packed by …']. I put myself in their shoes and ship it how I would like to receive it. I know the book is pristine when it leaves my station."
Amparo Lette, O.P.1, Reno (PRH: 1 year and 7 months; Baker & Taylor: 42 years): "With Baker & Taylor, I started in book processing and then ended up in inventory control for a long time … Now, I'm an order picker for PRH. I like picking the right book for the right customer. If we get the order right, the customer is happy – and that makes me feel good."
Alejandra ("Ali") Torres-Lopez, Group Leader, Receiving, Reno (PRH: 1 year and 7 months; Baker & Taylor: 11 years): "The most rewarding thing about my job is being able to help others, answer their questions, and listen to their concerns. I also like being able to help my fellow Spanish-speaking colleagues – having their voices heard through me."
Penguin Random House will continue to invest in the best people and in Supply Chain improvements, to ensure that our distribution network will always offer our accounts the best customer service and shortest order-to-delivery time in the book-publishing industry.
Thank you to all our Distribution & Fulfillment colleagues, who work so hard to support our authors and publishers, our customers, and our company.
Simply The Best.
Posted: August 26, 2021