WHEN YOU TRAP A TIGER 2021 Newbery Medal Winner; FIGHTING WORDS, THE CAT MAN OF ALEPPO Respective Newbery, Caldecott Honors Books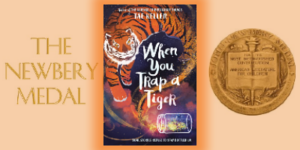 Wonderful news from the January 25 session of the ALA Midwinter Meeting, an annual convocation, held virtually this year, dear to the nation's library community. One of its most anticipated highlights is the bestowal of numerous prizes and recognition for previous year's children's and young adult fiction and nonfiction deemed to be of resonant literary and cultural importance. Chief among them is the Newbery Medal, awarded yearly to "the most distinguished American children's book." This year's Newbery Medal winner is published by Random House Books for Young Readers:
WHEN YOU TRAP A TIGER by Tae Keller
Would you make a deal with a magical Tiger? This uplifting story—edited by former RH Editor Chelsea Eberly, now edited by Caroline Abbey—brings Korean folklore to life as a girl goes on a quest to unlocking the power of stories and to save her grandmother.
More PRH titles newly honored with ALA-acknowledged recognition:
Newbery Honor Book
FIGHTING WORDS by Kimberly Brubaker Bradley (Dial Books for Young Readers)
Caldecott Honor Book
THE CAT MAN OF ALEPPO illustrated by Yuko Shimizu; written by Karim Shamsi-Basha and Irene Latham (G.P. Putnam's Sons Books for Young Readers)
Sibert Honor Book
This award honors the most distinguished informational book published in English in the preceding year for its significant contribution to children's literature
HOW WE GOT TO THE MOON: The People, Technology, and Daring Feats of Science Behind Humanity's Greatest Adventure by John Rocco (Crown Books for Young Readers)
YALSA Excellence in Nonfiction Award Winner
The award honors the best nonfiction book published for young adults (ages 12-18).
THE RISE AND FALL OF CHARLES LINDBERGH by Candace Fleming (Schwartz & Wade)
Sydney Taylor Book Award Winner and Honor Books
For outstanding books for children and teens that authentically portray the Jewish experience.
Middle Grade Winner
TURTLE BOY by M. Evan Wolkenstein (Delacorte Books for Young Readers)
Young Adult Winner
DANCING AT THE PITY PARTY by Tyler Feder (Dial Books for Young Readers)
Middle Grade Honor
THE BLACKBIRD GIRLS by Anne Blankman (Viking Books for Young Readers)
Middle Grade Notable
LETTERS FROM CUBA by Ruth Behar (Nancy Paulsen Books)
Young Adult Notables
THE POLIO PIONEER by Linda Elovitz Marshall, illustrated by Lisa Anchin (Knopf Books for Young Readers)
THE WAY BACK by Gavriel Savit (Knopf Books for Young Readers)
THE ASSIGNMENT by Liza Weimer (Delacorte Books for Young Readers)
POCKET CHANGE COLLECTIVE: THE NEW QUEER CONSCIENCE by Adam Eli (Penguin Workshop)
Asian/Pacific American Award for Literature
Recognizing individual work about Asian/Pacific Americans and their heritage, based on literary and artistic merit.
Picture Book Winner
PAPER SON: The Inspiring Story of Tyrus Wong, Immigrant and Artist by Julie Leung, illustrated by Chris Sasaki (Schwartz & Wade)
Children's Literature Winner
WHEN YOU TRAP A TIGER by Tae Keller (Random House Books for Young Readers)
Asian/Pacific American Award for Literature Honor Books
Picture Book Honor
DANBI LEADS THE SCHOOL PARADE by Anna Kim (Viking Books for Young Readers)
Children's Literature Legacy Award Winner
Mildred D. Taylor (Viking Books for Young Readers author)
Michael L. Printz Award Honor Book
EVERY BODY LOOKING by Candice Iloh (Dutton Books for Young Readers)
Pura Belpré Award Honor Book
WE ARE NOT FROM HERE by Jenny Torres Sanchez (Philomel Books)
Theodor Seuss Geisel Award Honor Books
THE BEAR IN MY FAMILY by Maya Tatsukawa (Dial Books for Young Readers)
WHERE'S BABY? by Anne Hunter (Tundra Books, a Penguin Random House Canada imprint)
Coretta Scott King Award Winner
BEFORE THE EVER AFTER by Jacqueline Woodson (Nancy Paulsen Books)
Coretta Scott King Award Honor Books
LIFTING AS WE CLIMB: Black Women's Battle for the Ballot Box by Evette Dionne (Viking Books for Young Readers)
ALL THE DAYS PAST, ALL THE DAYS TO COME by Mildred D. Taylor (Viking Books for Young Readers)
Stonewall Mike Morgan & Larry Romans Children's & Young Adult Literature Award Honor Book
DARIUS THE GREAT DESERVES BETTER by Adib Khorram (Dial Books for Young Readers)
Schneider Family Book Award Middle School Honor Books
WHEN STARS ARE SCATTERED by Victoria Jamieson and Omar Mohamed, illustrated by Victoria Jamieson and Iman Geddy (Dial Books for Young Readers)
GET A GRIP, VIVY COHEN! by Sarah Kapit (Dial Books for Young Readers)
Posted: January 25, 2021