Whitehead's "The Nickel Boys" 2020 Pulitzer Fiction Winner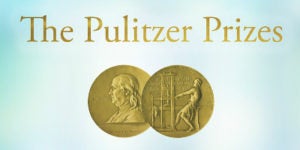 THE MAGNIFICENT AMBERSONS by Booth Tarkington (1919). THE GRAPES OF WRATH by John Steinbeck (1940). PROMISES: Poems 1945-1956 by Robert Penn Warren (1958). THE POWER BROKER by Robert A. Caro (1975). GHOST WARS by Steve Coll (2005). THE BRIEF WONDROUS LIFE OF OSCAR WAO by Junot Diaz (2008).
These are some classic Penguin Random House books awarded a Pulitzer Prize. Now, joining our previous 131 winners:
Fiction
THE NICKEL BOYS by Colson Whitehead (Doubleday U.S. hardcover and e-book published July 16, 2019; Anchor paperback; Random House Audio; PRH Canada: Bond Street Books hardcover and e-book/Anchor Canada trade paperback July 2020).
This is Mr. Whitehead's second Fiction Pulitzer. His THE UNDERGROUND RAILROAD won the Prize in 2017. Previous two-time Pulitzer Fiction winners are Booth Tarkington, William Faulkner, and John Updike: all Penguin Random House authors.
This is also the second Pulitzer for Mr. Whitehead's editor, William Thomas. His editor in Canada is Amy Black.
The Pulitzer citation for THE NICKEL BOYS reads: "A spare and devastating exploration of abuse at a reform school in Jim Crow-era Florida that is ultimately a powerful tale of human perseverance, dignity and redemption."
An instant New York Times bestseller, THE NICKEL BOYS is described by its publisher as a "perfect follow-up and companion to The Underground Railroad, in THE NICKEL BOYS Colson Whitehead recreates the horrors of segregation and the struggles of the Civil Rights movement as the backdrop for an emotionally charged and compulsively readable novel populated with deeply empathetic characters."
Upon learning of his second Pulitzer, Mr. Whitehead commented, "It's pretty nuts! Obviously I'm very honored and I hope that it raises awareness of the real life model for the novel – The Dozier School for Boys – so that the victims and their stories are not forgotten."
Bill Thomas added, "I've been saying for twenty years Colson's a genius, and he keeps proving me right. All of us at Doubleday are so proud to publish this great American novelist."
Riverhead author Barry Blitt also is a 2020 Pulitzer winner, for Journalism, in the Editorial Cartooning category. His BLITT, published October 2017, is edited by Courtney Young.
In addition, we congratulate Nikole Hannah-Jones of the New York Times whose 2020 Journalism Pulitzer "for a sweeping, deeply reported and personal essay for the ground-breaking 1619 Project"—which is being expanded into a cross-divisional, multi-title PRH acquisition—and Ballantine author Dionne Searcey (IN PURSUIT OF DISOBEDIENT WOMEN) for sharing a Pulitzer with other Times reporters in Investigative Reporting.
Publishing Pulitzer Prize winners is a privilege we never will take for granted. Our proud congratulations to Colson Whitehead and Barry Blitt, Bill, Amy, Courtney, Nikole and Dionne, as well as our Doubleday, Riverhead, and Random House colleagues. We all are honored by your accomplishments.
View the complete list, by category, of Penguin Random House Pulitzer winners here.
Posted: May 5, 2020