Who Was? History Bee Trivia Competition For Kids is Back!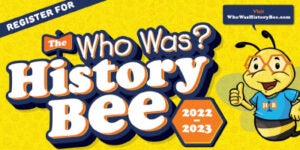 Penguin Young Readers is relaunching the  Who Was? History Bee Competition, an annual trivia competition for kids in the 3rd-5th grades. More than 25,000 students from 49 states participated in the last Who Was? History Bee, hosted in 2020, which named 10 regional finalists champions.  This time around, Penguin Young Readers is thrilled to offer students the opportunity to test their history skills in a reinvented experience designed to take full advantage of the digital space.  
For the 2022-23 trivia competition, four regional student winners will receive a $2,500 U.S. Savings Bond and a full Who Was? library for themselves and their teachers in a live celebration event hosted in Roblox.  Teachers, librarians, and district administrators can register for the Who Was? History Bee now at https://www.whowasbookseries.com/history-bee/. Registration is open through December 23rd 2022.
The Who Was? book series began in 2002 with the publication of just four books. Since then, it has evolved into a brand encompassing over 300 titles across seven series lines, a Netflix original series, and The Who Was? Podcast, a children's trivia quiz show released in March 2022 in partnership with iHeartRadio and Radio Point, from the team behind the Emmy-winning Netflix show.  
With more than 50 million books in print worldwide, Who Was? is now the #1 nonfiction series for middle-grade readers; every 13 seconds, a Who HQ book is sold. For more information about the series, including a list of titles, visit www.whohq.com. 
Posted: August 15, 2022