"Why Black Fiction Matters" Essay by Berkley Author Jasmine Guillory Featured in TIME Magazine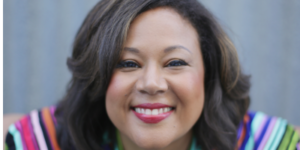 The February 2018 publication of Jasmine Guillory's debut novel The Wedding Date kick-started a sea of change in the romance genre and she has remained at the forefront of the rom-com renaissance ever since.
Five books, two New York Times bestsellers, and one Reese
Witherspoon Book Club pick later, Berkley has just launched PARTY OF TWO, her latest book, with a major national publicity and marketing campaign.
Jasmine's charisma and widely-read book knowledge has made her into a media must-have for interviews, book recommendations, and essays. And it was an essay request from TIME magazine that gave Jasmine the opportunity to write about a topic deeply personal to her and also vital to our country's current dialogue about race: Why Black Fiction Matters.
Here are two excerpts:
"As anti-racism books fill up the bestseller lists, I'm thrilled that people want to learn more about racism, white supremacy and their own role in both. But when we say Black Lives Matter, we mean the whole of Black lives—not just when we die at the hands of the police and not just when our lives intersect with white lives to our detriment. Racism is not the only thing to know about what it means to be Black."
*****
"In the pages of the romance novels I read and write, I see the Black women I've seen my whole life. They are successful, respected and involved in loving, fulfilling and happy relationships. I want the world to know not just about our pain, but the whole of our lives, and especially our joy."
*****
Posted online now and running in the July 20 print issue of TIME, Jasmine's essay can be read here.
Posted: July 10, 2020