Why C. J. Box Readers Love Game Warden Joe Pickett: "He has flaws. He makes mistakes. He's no Superman."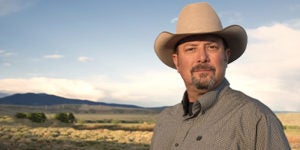 #1 New York Times bestselling author C.J. Box's LONG RANGE, published by G.P. Putnam's Sons on March 3, is his 20th Joe Pickett novel. Mr. Box has written an intriguing new mystery in which our favorite Wyoming game warden must investigate an attempted murder committed from a confoundingly long distance. The search for the would-be assassin becomes personal when Joe's best friend, Nate Romanowski – just as he's adjusting to the arrival of his first child – is suspected of the crime. It's a race against the clock as Joe tries to clear Nate's name and identify the real shooter. Beset by threats both man-made and natural, the two men must go to great lengths to keep their loved ones safe.
We check in with Mr. Box, who was branded "one of today's solid gold, A-list, must-read writers" by fellow Penguin Random House author Lee Child, in this "Behind the Pages" Igloo interview:
What was the genesis of the long-range rifle being an element of the crime at the center of LONG RANGE?
Due to technological improvements in engineering, manufacturing, materials, and advanced optics, average hunters can now make long-range rifle shots that were impossible to imagine even ten years ago. The lethal range of a high-powered bullet has been extended thousands of yards. What was once possible only for highly-trained military snipers is now available to anyone with the money to buy a high-tech long range rifle. I've personally hit a target with one of these new weapons at over one thousand yards.
What were the challenges involved in making Nate Romanowski – always a complex character – into a caring family man while maintaining his physically lethal side?
Each book in the series progresses in real time and I like to continue to develop the characters in a realistic way. I'm intrigued by the juxtaposition of Nate and Joe's relationship over time. Now that Joe and Marybeth are empty nesters, Nate is experiencing what it's like to have a family. But he's still Nate.
As you continue to redefine the contemporary Western, how do you keep Joe Pickett fresh as a character while also maintaining familiar trademark traits that endear him to readers?
Although readers of longtime series have to suspend disbelief when it comes to all the things that happen over the years to Joe Pickett, I hope he remains as authentic as possible. Joe isn't perfect. He has flaws, and he makes mistakes. He's no superman. I like to think readers will continue to follow him because they can never be certain what he'll do or what he'll get himself into.
C.J. Box photo by Dave Neligh
Posted: March 4, 2020