Why Suleika Jaouad Sought Out "The Things Lurking in the Shadows"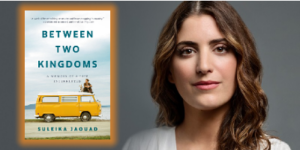 Suleika Jaouad's BETWEEN TWO KINGDOMS: A Memoir of a Life Interrupted has been described as "a searing, deeply moving memoir of illness and recovery that traces one young woman's journey from diagnosis to remission and, ultimately, a road trip of healing and self-discovery." It is that and much more.
In this Behind the Pages Igloo feature, Suleika Jaouad shares, "The whole time I was working on this book I had a post-it note above my desk with a quote that said: If you want to write a good book, write what you don't want other people to know about you. If you want to write a great book, write what you don't want to know about yourself. Those were my guiding words—I didn't just want to write about this experience of illness and beginning again, I wanted to write toward the quieter moments and seek out the things that were lurking in the shadows, but to write with as much unvarnished honesty as I could."
After three and a half years of chemo therapy, a clinical trial, and a bone marrow transplant, Jaouad embarked—with her new best friend, Oscar, a scruffy terrier mutt—on a 100-day, 15,000-mile road trip across the country. She set out to meet some of the strangers who had written to her during her years in the hospital: a teenage girl in Florida also recovering from cancer; a teacher in California grieving the death of her son; a death-row inmate in Texas who'd spent his own years confined to a room. What she learned on this trip is that the divide between sick and well is porous, that the vast majority of us will travel back and forth between these realms throughout our lives.
Andy Ward, EVP & Publisher, Random House, says, "Suleika was not far removed from the worst of her illness when we signed this book up and I remember thinking, when I first met her in the office: how is she ever going to put an experience this painful, this traumatic into any kind of perspective? Well, she worked and worked at it for five years, processing and reliving and distilling a searing period in her life – one that was defined by loss and isolation – and emerged with what I think is a beautiful and inspiring story of survivorship, in all its complexity. Her bravery and determination – as a person and a writer – are what made this book possible, and I'm grateful to know her."
Posted: February 12, 2021