William Gibson to be Featured at the KGB Bar's Fantastic Fiction Virtual Event via YouTube (11/18)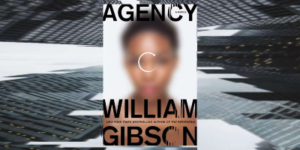 William Gibson, most recently the author of AGENCY (Berkley), will be in conversation with author Cat Rambo as part of the the Fantastic Fiction virtual event series hosted by the KGB Bar (New York City) via YouTube on Wednesday, November 18 at 7:00 pm (ET).
AGENCY, Gibson's newest science fiction thriller, is a sequel to his novel, The Peripheral, and heavily influenced by our most current events.
William Gibson is credited with having coined the term "cyberspace" and having envisioned both the Internet and virtual reality before either existed. He is the author of Neuromancer, Count Zero, Mona Lisa Overdrive, Burning Chrome, Virtual Light, Idoru, All Tomorrow's Parties, Pattern Recognition, Spook Country, Zero History, Distrust That Particular Flavor, and The Peripheral. He lives in Vancouver, British Columbia, with his wife.
!! As a reminder, if you are posting to a personal or other non-PRH account you must include the hashtag #TeamPRH !!
Posted: November 16, 2020