WMG Presents "The Battle for the Bookshelf" Featuring RHCB's Dominique Cimina on July 17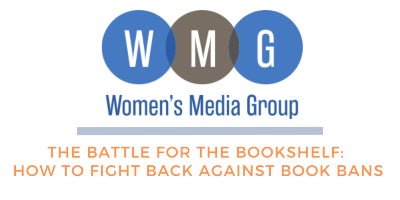 The Women's Media Group (WMG) is presenting a special event, "The Battle for the Bookshelf: How to Fight Back Against Book Bans" on Monday, July 17 from 12:00 -1:00 PM ET via Zoom. To register click here. 
We are witnessing an unprecedented surge in politically motivated book bans, threatening the free flow of ideas and stifling intellectual diversity within communities nationwide. Join WMG for a compelling and urgent panel discussion as we confront the escalating wave of book bans and assaults on the cherished freedom to read. In this candid conversation, panelists will delve into effective strategies that libraries, publishers, media, and others can employ to push back against these alarming well-organized challenges, defend intellectual freedom, and safeguard access to diverse and challenging literary works. 
When: Monday, July 17 from 12:00 to 1:00 PM ET
Where:  Via Zoom
Cost: Free for WMG members, $15 for non-members
Register: https://www.womensmediagroup.org/event-5325775
"The Battle for the Bookshelf" Panel will include: 
Dominique Cimina is SVP, Publicity, Corporate Communications and Author Brand Strategy for Random House Children's Books (RHCB). Over the course of her 15 year career at RHCB, Dominique has developed and executed publicity campaigns, as well as managed relationships for talent including Christopher Paolini, Mary Pope Osborne, Carl Hiaasen, R.J. Palacio, Marie Kondo, Ken Burns, Jason Segel and Jimmy Kimmel. Dominique currently oversees the team that manages PR and event strategy for all authors, illustrators and brands published by RHCB. She leads the division's internal and external communications efforts, philanthropic initiatives, and has recently began focusing on the development of RHCB's author brands. She has a B.A. in Sociology from Brown University and a MBA from Columbia University. 
Stephana Ferrel to bring together student-centered groups from across the state of Florida and unite our voices to protect every student's right to access information and ideas. Her primary role within FFTRP is to track the censorship attempts happening around the state as Director of Research & Insight. She is the mom of two children that attend Florida public schools. 
Nina Lorez Collins is the board chair of the Brooklyn Public Library, a trustee of the publishing house Spiegel & Grau, and she manages the literary estate of her late mother, the filmmaker and writer Kathleen Collins. Until recently she was the Chief Creative Officer for Hello Revel, a digital events & community platform for women over 40, as well as the founder of The Woolfer, which Revel acquired in 2021. Her book, What Would Virginia Woolf Do? And Other Questions I Ask Myself As I Attempt to Age Without Apology, was published in April 2018. She's a graduate of Barnard College, has a Masters degree from Columbia in the field of Narrative Medicine, and a long professional background in book publishing, both as a literary scout and then as an agent. She has four grown children and lives in Brooklyn. 
Caroline Richmond is the Executive Director of We Need Diverse Books, a 501(c)(3) nonprofit dedicated to creating a world where everyone can find themselves in the pages of a book. In this role, Caroline develops programs to diversify the multi-billion-dollar publishing industry, oversees grants that support diverse creators and educators, and generates resources to address the book bans spreading nationwide. She is a member of various advisory boards, including the Little Free Library and Mayo Clinic Press, and is also an award-winning young adult author. 
Moderator: 
Kelly Jensen is an Editor at Book Riot, the largest independent book website in North America. She covers all things young adult literature and has written about censorship for nearly ten years. She is the author of three critically-acclaimed and award-winning anthologies for young adults. She was named a person of the year in 2022 by Publishers Weekly and a Chicagoan of the year in 2022 by the Chicago Tribune for her anti-censorship work. Prior to her work at Book Riot, she was a public librarian for children, teens, and adults in several libraries in Northern Illinois and Southern Wisconsin. 
Posted: July 10, 2023