WNDB and PRH Announce Winners of the First Black Creatives Fund Revisions Workshop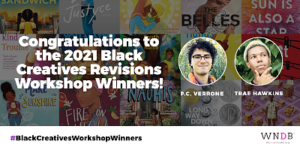 We Need Diverse Books (WNDB) and Penguin Random House are excited to announce the two winners of the inaugural Revisions Workshop, who will each receive grants of $4,500. The Revisions Workshop is one of three initiatives within WNDB's Black Creatives Fund, which launched in early 2021 to support Black writers and illustrators. Penguin Random House was the inaugural sponsor of the fund in the 2021 calendar year and will sponsor the program again in 2022.
The committee of PRH editors selected the two winners, which include:
Trae Hawkins
THE STARS ARE OURS, Middle Grade and Young Adult Category
P.C. Verrone
THE NIGHTLIFE, Adult Category
Both winners' manuscripts will be considered for publication at Penguin Random House.
The committee of editors included:
Adult: Tracy Bernstein, Mia Council, Nicole Counts, Robin Desser, Caitlin McKenna, Margo Shickmanter
Middle Grade/Young Adult: Jenny Bak, Dana Carey, Ellen Cormier, Marisa DiNovis, Bunmi Ishola, Matt Phipps
A huge thank you to all of you for volunteering your time to provide these writers with such thoughtful feedback!
The Revisions Workshop was established to provide manuscript development and programming for twelve Black writers who have completed a draft of a middle grade, young adult, or adult novel. Over a six-month period, participants received training from a faculty of esteemed Black authors, along with the opportunity to build a writing community, connect with publishing professionals, and receive feedback on their works in progress. The workshop was developed and overseen by Breanna J. McDaniel, the Program Manager of the Black Creatives Fund.
Trae Hawkins's young adult manuscript, The Stars Are Ours, was reviewed by Matt Phipps, Assistant Editor at Penguin Young Readers. "I love the queer representation and it's easy to rally behind this liberation narrative," said Phipps.
P. C. Verrone's adult manuscript, The Nightlife,was reviewed by Nicole Counts, Senior Editor at One World. Counts said, "This is a delightfully intriguing tale…There's a real freshness to the story and voice, and a nice balance of literary beauty and modern cleverness."
WNDB and PRH will continue Black Creative Fund programming in 2022, including the second cycle of the Revisions Workshop.
Posted: December 2, 2021