Worldcon Report: A Great Year for DAW at the 2018 Hugo Awards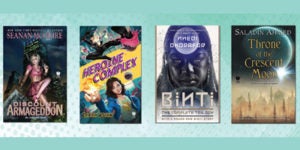 This year's Worldcon, held August 16 – 20, in San Jose, California, was capped by the Hugos, the premier sci-fi and fantasy book awards. And it was a great year for DAW. Sheila E. Gilbert, DAW Co-Publisher and Vice President, won her second Hugo in the Best Editor–Long Form category. The Best Novelette Hugo went to author Suzanne Palmer (DAW is publishing her debut novel FINDER in April 2019).
DAW had a number of Hugo finalists as well, including Seanan McGuire (October Daye, InCryptid, Ghost Roads series) for Best Series; Sarah Kuhn (Heroine Complex series) for the John W. Campbell Award for Best New Writer; Saladin Ahmed (Throne of the Crescent Moon) for Best Graphic Story; and DAW founder Donald A Wollheim earned 4 Retrospective Hugo Award nominations, in these categories: Best Short Story ("Mimic," inspiration for the 1997 Guillermo del Toro movie), Best Fanzine (The Phantagraph), Best Fan Writer, and Best Editor—Short Form.
Also of special note: DAW and Penguin Young Readers author Nnedi Okorafor won the World Science Fiction Society Award for Best Young Adult Book, the first year this category has been awarded, for AKATA WARRIOR (Viking Books for Young Readers). She was also nominated for Best Novella for the Tor.com's novella, Binti: Home—included in DAW's hardcover omnibus edition of the series, BINTI: THE COMPLETE TRILOGY, to be published in February 2019.
Worldcon (the World Science Fiction Convention) is the annual gathering of science fiction and fantasy fans, writers, artists, musicians and other creators, first held in New York City in 1939. Worldcon is held in a different city and organized by a different volunteer organization each year. The 2018 event was organized by a committee sponsored by San Francisco Science Fiction Conventions, Inc., a California public benefit corporation.
Posted: August 24, 2018