YA Author Nic Stone Fulfills a Wish With Her New Novel FAST PITCH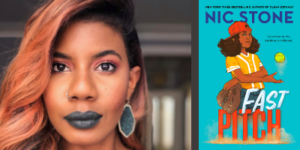 Our new Igloo Book Buzz selection is Nic Stone's FAST PITCH (Crown Books for Young Readers), a challenging and heartwarming coming-of-age story about a softball player looking to prove herself on and off the field. Shenice Lockwood, captain of the Fulton Firebirds, is hyper-focused when she steps up to the plate. Nothing can stop her from leading her team to the U12 fast-pitch softball regional championship. But life has thrown some curveballs her way.
Phoebe Yeh, VP & Publisher, Crown Books for Young Readers, says, "One of the things I love most about working with Nic is that she's constantly pushing herself as a writer. And that's why I'm always excited when there's a new book by Nic. She is one of the first writers I published when I came to Crown Books for Young Readers, starting with her YA fiction debut, DEAR MARTIN. Nic's YA novels were too sophisticated to share with her young sons, and she wanted to write books that were appropriate read-alouds for them. The books would include African American history and would be compelling stories about real kids with real problems and sometimes, complicated friend/family relationships. Enter the memorable characters, irrepressible Scoob and his unconventional G'ma in her first middle grade novel CLEAN GETAWAY. Imagine my happiness when Nic wanted to continue creating standout characters for middle grade novels and readers.
"Remember Shenice, the girl Scoob is crushing? Nic told me that there was more to Shenice 'Lightning Lockwood''s story. She's a softball player. The captain of the Fulton Firebirds, an all-Black girls' team. The first of its kind. And they're going for the championship in the Dixie League. (Yes, Dixie). There are micro-aggressions. Sexism. But also camaraderie. Shenanigans. Teamwork. Competition. Supportive coaches and parents. A caring teacher. And a mystery related to Shenice's Great Grampy Jon-Jon, who mysteriously stopped playing in the Negro Baseball Leagues some seventy years ago.
"So, what's the right thing to do? Go for the win, above all else? Or to leave no stone unturned to exonerate an ancestor who had been falsely accused of theft. As always, Nic offers an entertaining, thoughtful, textured novel about intersectionality, rediscovering family history, what it means to be a hero at age twelve. And yes, for those of you who are wondering, before she was a cheerleader, Nic played softball. It's about time we had a middle grade novel about an African American girl brainiac athlete. Thank you, Nic Stone."
Nic Stone shares, "When I was Shenice's age—12—two things were resoundingly true: I was obsessed with the film The Sandlot, and I never saw books that featured Black girls, let alone Black girls who loved The Sandlot and who would eventually pick up a bat of their own. As such, writing FAST PITCH was 100% a form of wish fulfillment. It gave me the opportunity to pay homage to a film that I could feel in my bones, despite the lack of girls (Kenny DeNunez was the one Black kid on the field just like I was, and that was enough for me at that point), to validate my love of athletics AND to let the world know girls like me exist. It's also an ode to family, an attempt at dismantling stereotypes about Black girlhood, AND a reminder to young folks that it's up to them to set and stand by their priorities. BATTER UP, babies!"
Posted: August 31, 2021