Zak George Shares Tips and Answers Your Dog Questions via Instagram Live (5/6)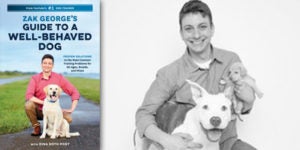 Zak George, author of DOG TRAINING REVOLUTION and GUIDE TO A WELL-BEHAVED DOG , both published by Ten Speed Press, shares tips and answers to your dog questions via Instagram Live on Wednesday, May 6, at 1:00pm (ET).
Zak is a new type of dog trainer. A dynamic YouTube star and Animal Planet personality with a fresh approach, Zak helps you tailor dog training to your pet's unique traits and energy level—leading to quicker results and a much happier pup.
For the first time, Zak has distilled the information from his hundreds of videos and experience with thousands of dogs into this comprehensive dog and puppy training guide. Delving deeply into why dogs do what they do and how to work through any problems that might arise, Zak proves that it's never too late to correct behavioral issues.
As a reminder, if you are a PRH employee posting to a personal or other non-PRH account, you must include the hashtag #TeamPRH !! 
Posted: May 5, 2020