Zealots and Abolitionists: A Conversation with H. W. Brands and Steve Inskeep via Crowdcast (11/6)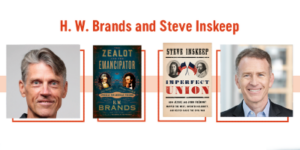 Steve Inskeep, author of IMPERFECT UNION (Penguin Press), and H. W. Brands, author of THE ZEALOT AND THE EMANCIPATOR (Doubleday), will discuss their books at a virtual event hosted by the Texas Book Festival via Crowdcast on Friday, November 6 at 3:30 pm (ET).
Inskeep and Brands share deeply researched portraits of two historical duos—President Abraham Lincoln and radical abolitionist John Brown, and influential political couple John and Jessie Frémont—who, sometimes intentionally and sometimes not, helped shape the United States from the nineteenth century to today.
With IMPERFECT UNION, Inskeep tells the riveting story of John and Jessie Frémont, the husband and wife team who in the 1800s were instrumental in the westward expansion of the United States, and thus became America's first great political couple.
Brands narrates the epic struggle over slavery as embodied by John Brown and Abraham Lincoln—two men moved to radically different acts to confront our nation's gravest sin. THE ZEALOT AND THE EMANCIPATOR is page-turning account of how two American giants shaped the war for freedom.
Brands holds the Jack S. Blanton Sr. Chair in History at the University of Texas at Austin. A New York Times bestselling author, he was a finalist for the Pulitzer Prize in biography for The First American and Traitor to His Class.
Inskeep is a cohost of NPR's Morning Edition, the most widely heard radio program in the United States, and of NPR's Up First, one of the nation's most popular podcasts. His reporting has taken him across the United States, the Middle East, Latin America, Africa, Pakistan, and China. His search for the full story behind the news has led him to history; he is the author of Instant City: Life and Death in Karachi and Jacksonland: President Andrew Jackson, Cherokee Chief John Ross, and a Great American Land Grab, both published by Penguin Press.
!! As a reminder, if you are posting to a personal or other non-PRH account you must include the hashtag #TeamPRH !!
Posted: November 4, 2020