Annette Danek, EVP & Chief Supply Chain Officer, Penguin Random House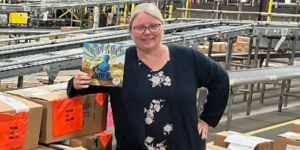 The Penguin Random House U.S. supply chain has become widely recognized as the trade-publishing industry's gold standard, for its speed and reliability.
Our supply chain is comprised of books and book-related processes, physical and digital, orders, and payment from our bookseller customers. Once books are printed and bound by outside printers, they are received and stored in one of our four distribution centers located across the country. Books are packed in full carton and loose locations. Once an order is received and processed via customer service or EDI order processing, our floor staff picks, packs, and ships the requested titles to our customers. So, we need inventory, and we need orders—which we receive hourly from multiple national accounts and local independent booksellers. The inventory and amount of orders we receive dictate our long-term warehouse size, locations, capabilities, employee count, and the shifts our staff work in each center.
As the EVP & Chief Supply Chain Officer, I have the privilege of leading more than 2,000 colleagues in our Westminster, Crawfordsville, Reno, and Hampstead fulfillment centers, from which I direct a massive, cross-functional, end-to-end North American and international supply chain—shipping two-million books worldwide daily. Together with Sales, my team and I also have developed numerous innovative programs that benefit our retail customers, such as the two-day rapid shipments for the year-end holidays, and beyond.
While most of our customers follow our standard processes, there are some accounts that are managed by the Special Markets Sales teams that require special handling and administration.

Our largest special market account by far is The Dollywood Foundation, inspired by Dolly Parton, who operate the Dolly Parton's Imagination Library® program. This year, Imagination Library reached a new milestone where 10% of all children under five-years-old in the U.S receive a monthly book from Imagination Library. The team, led by Lisa Vitelli in the Special Markets division, is responsible for working with The Dollywood Foundation's committee, who annually select the books that are shipping to the children each month.
These customized children's books are stored in the Crawfordsville, Indiana, distribution center. The fulfillment teams have worked to precisely time the picking and shipping of those books to The Dollywood Foundation's mailing house. We label the pallets in a special way for the mailing house so that they can efficiently receive in, store, and ultimately process over two million books each month. As Imagination Library aspires to continue to grow, we will need to increase our space requirements, readjust our transportation methods, and modify our picking and shipping processes. We look forward to the challenge.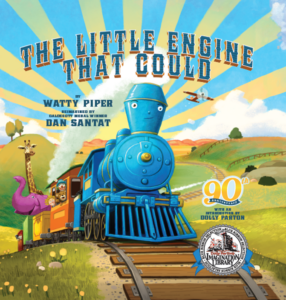 I am holding up the book THE LITTLE ENGINE THAT COULD as that is the first book a child receives when they are enrolled in the Imagination Library program. The Dollywood Foundation purchases nearly 500,000 of them annually.
We are proud to support this important cause and do our part to increase literacy in our country.
Posted: November 14, 2022