Inspiration, Challenges, and Advice From Companhia das Letras, Brazil
Warehouse Colleagues Do an Amazing Job Making Sure Books Reach Readers Across the Country.
Interviews with Camila Berto, Editor, Companhia das Letras and Tarcisio Santana, Rights Manager, Companhia das Letras.
INSPIRATION
Tarcisio: The biggest inspiration was the opportunity to do things in a different way, and to see the company doing everything possible to support everyone during these difficult times.
Camila: To see that everyone at Companhia is working together to get over this crisis was very inspiring. While we are finding new ways to promote literature remotely, our colleagues at the warehouse are doing an amazing job making sure books reach readers all over the country.
CHALLENGES
Tarcisio: For me, the biggest challenge is to stay focused on work when we have all the things at home available to attract our attention.
Camila: I found it challenging to establish a new routine at home and understanding this new dynamic of working from home. I miss having my colleagues around, but fortunately we have several resources that are allowing us to keep in touch.
ADVICE
Camila: Be patient because the more we stay at home, the sooner everything will be back to normal. And find yourself a comfortable chair in the meantime!
Tarcisio: If you can, keep your mind healthy. We know that these times are very strange, but we can use them to learn more about ourselves and take this forced opportunity to finally do this one thing that you have always postponed due to never having enough time.
BOOK RECOMMENDATIONS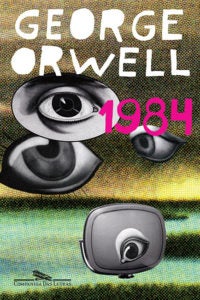 Tarcisio: I reread 1984 by George Orwell when the quarantine started, and now I'm reading THE MAP AND THE TERRITORY by Alan Greenspan.
Camila: I've just read Spillover by David Quammen, which Companhia das Letras will publish soon in Brazil. It's a deep and frightening work on animal infections that become transmissible to humans—just like the new coronavirus. I highly recommend it.
Posted: May 1, 2020