Inspiration, Challenges, and Advice From Penguin Random House Australia
Our Joy in Supporting Local Australian Booksellers.
Interviews with Isabelle Yates, Commissioning Editor, Adult Publishing, PRH Australia and Louise Ryan, Publishing Manager, Local Adult, Adult Publishing, PRH Australia.
INSPIRATION
Louise: I cannot believe how hard working and collegiate my colleagues are. COVID-19 appeared so suddenly as a very real threat to us all. Everyone did a quick spin and a twist and figured out how to do our best for our authors, their books, our booksellers, and each other within this new framework. It has been truly inspiring to witness the hard work and creative solutions. I think we'll learn a lot and come out of this as better workers and better people.
Isabelle: I've loved seeing the support for local independent bookshops here in Australia—we're lucky to have many brilliant ones that are really embedded within their communities. They've been working creatively and tirelessly to keep providing their customers with wonderful books to read, and people have been actively supporting them with purchases. We also have great content going up on The Shelf, our intranet, each day of the week—inspiring TED talks, mindfulness tips, funny memes… it's a nice place to check in to for some daily positivity!
CHALLENGES
Isabelle: It's taken me a bit longer to get into a new routine than I was expecting—I thought I'd have it all figured out within a couple of days, but it's probably taken a few weeks, and I've had to consciously take the pressure off myself as I've adjusted. I also really miss seeing my colleagues in the office!
Louise: Being a high energy extrovert has meant I've been going very fast in a very small space. With too many visits to the fridge. It's been 5 weeks and I continue the daily (and nightly) struggle to settle my mind. Half my time is spent trying to figure out why I find this so difficult.
ADVICE
Louise: Buy from the local businesses you love. Buy more books than you need from your local independent bookstore. #Stayathome, wash your hands and stick with social distancing for as long as it takes. Do your best. Look out for your friends, family, colleagues, and neighbours. A good cry is better than a pill….
Isabelle: Try to be in the present moment as much as possible—there's not much else we have control over, and future planning is hard right now with all the uncertainty. But I find looking for something good that's right in front of me, and appreciating even small wins each day, does help. I'd also say replacing the odd email with a phone call where you can is a great way to bring a bit more human connection into your day.
BOOK RECOMMENDATIONS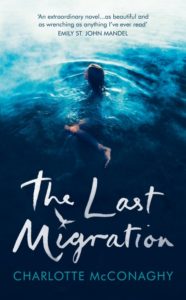 Louise: I have just re-read a book we are publishing in August called THE LAST MIGRATION. It's an extraordinary debut novel by Australian author Charlotte McConaghy. Franny Stone is a young woman on a personal mission to find the world's last flock of arctic terns and follow their last migration. It's a book for now – a shatteringly beautiful ode to wild places, threatened creatures, and people who love. 
Isabelle: Next on my pile is Kawai Strong Washburn's debut novel, Sharks in the Time of Saviours. A lyrical family saga set in Hawai'i and the United States, it will give me the much-needed opportunity for some armchair travel. Many colleagues say it's a magical, powerful read. I cannot wait to dive in.
Posted: May 1, 2020