Inspiration, Challenges, and Advice From Penguin Random House China
Taking Inspiration from Our Resilience.
Interviews with Patrizia Van Daalen, Publishing Director, Penguin Random House China and Sasha Lang, Marketing executive, Penguin Random House China.
INSPIRATION
Patrizia: The resilience and quiet acceptance of this new normal by my colleagues has been really inspiring. My instinct was to rebel, not against working at home, I love working at home, but against all the rest of the new rules in our lives. It seemed they knew from the start that staying calm and focused would bring us through this. Besides work, I have loved all the exchanges, especially of music, really inspiring.
Sasha: In the past three months, I could not go anywhere but stayed in my pokey flat in Beijing. I usually opened my curtains and looked out of window during breaks. One day, I noticed that the willows down there had sprouted. At that moment, I was inspired by the green of young leaves. Besides, it is inspiring to take on the shift to the office. It feels like everything are going to be back on track.
CHALLENGES
Sasha: It has been challenging to get access to region-restricted websites outside the office when I have to search for latest news or information about books. There is one more thing bothering me a lot—I miss the food (used to be) in every snack bar or restaurant on every street!

Patrizia: I am finding it challenging not to be completely distraught and distracted by terrible news, and to stop myself from imagining the worst outcomes of this crisis on all levels. On a family scale, it has been challenging to organize full time work, full time home schooling, full time everything at the same time and in the same space while remaining creative—and not start thinking about the first glass of wine too early in the morning. It it is a bit like life on a boat, there are no boundaries.
ADVICE
Sasha: I'd love to share the advice I've got from Jillian Lee, one of my Beijing colleagues: Keep a consistent schedule. To lift your spirits, put on the clothes that you would wear to work instead of the housecoats. You can't be too careful in the time of coronavirus.
Patrizia: Connections of all types have been really helpful for me, even looking for old friends one has lost track of. Music, for sure, very loud and very funny, dancing across the same space you've been working in all day, it changes perspectives.
BOOK RECOMMENDATIONS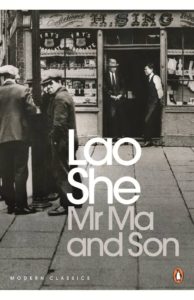 Sasha: I've recently read a book called "Mr. Ma and Son" by Lao She. Basically it's a Beijingers-in-London story which takes place in early 20th century. It feels different and interested to know about the lives of the people living in London in vivid Beijing dialect. There are some really good laughs in the book. Also, there are some great pains hidden in them. And I'm glad to find out that it has been published in English translation by Penguin Classics!
Patrizia: I have read a German book on friendship called NACKT IM HOTEL by Jo Schueck (it is actually much more serious than the title suggests), which just reminded me of the simple but crucial role of friends in our lives. And I am much looking forward to Carlo Rovelli's new book RELATIONS, but we need some more months of patience for this one.
Posted: April 30, 2020