Inspiration, Challenges, and Advice From Penguin Random House Germany
Rethinking Work Routines.
Interviews with Susanne Krebs, Publishing Director cbj Verlag / Penguin JUNIOR, Penguin Random House Germany and Pierrot Raschdorff, Marketing Director der Hörverlag, Penguin Random House Germany.
INSPIRATION
Susanne: The strong sense of connection I feel to everyone involved in our wonderful field of work: to my colleagues (even though our daily exchanges are suddenly reduced to Skype-calls), and to our authors and illustrators, with whom we delight in developing books, stories and images inspired by the world around us every day. Sure, we were all interconnected beforehand. But, as ever, it's not until things get a little rocky that we become more aware of what really matters, and how precious that is. It feels great that people are suddenly saying it. Pure energy!
Pierrot:  To me, working from home has given me the opportunity to rethink my working routines. Everything is a bit more focused: Many, but short and pointed video calls and in between time spent by myself to think and work on one topic intensively. Even if exchange does spark creativity, it is nice to get deeper into one topic for a change and to come up with creative solutions to the problem. Even in times of big data and ever-present algorithms, good ideas are the key to creative and effective marketing that affects people.
CHALLENGES
Pierrot: Working by myself at home is also the most challenging part of isolation. Video calls do help, but what is definitely missing is the chat at the coffee shop with colleagues or the shared lunch. When we moved to Munich one and a half years ago, I was afraid that our apartment might be a bit too expensive for us (who doesn't when moving to Munich?!), but it is spacious and bright. Now I am more than happy to have the opportunity to change rooms every now and then – even though it feels like I am continuously broke. You can see me here using my daughter's changing table as a desk – I'm lucky we still have a couple of weeks until she's born!
Susanne:  Well, it's home office week 5, and I'm very much home alone, as my husband and family are currently based elsewhere. So it's getting … challenging. But hey: I've started meditating again. I'm listening to much more music. And my pet parrot definitely loves home office!
ADVICE
Susanne:  Firstly: Reach out and connect, however briefly and in whatever way! Sometimes we hold back, or think to ourselves: "It goes without saying". Not so! At the start of the coronavirus crisis, I wrote a few encouraging words to our authors and illustrators, urging them to take heart and assuring them that now, if ever, is the time to make books! The response I received was so overwhelmingly positive that it will keep me going until the day I retire. A simple gesture, and a benefit for both sides: What a win in times of crisis! And secondly (ever important): Accept help from time to time!
Pierrot:  Set up new routines and give yourself some structure! Usually, our working days are pretty strictly structured by forces our of our control. But in times of shut-down and working from home we are given the opportunity to structure our days more or less as we please. To me, this means taking the time I'm "saving" in the morning for commute to start the day doing a yoga session, having a healthy breakfast and reading the newspapers before I'm starting up the computer. Hopefully a routine I can, at least in parts, stick to when we go back to the office!
BOOK RECOMMENDATIONS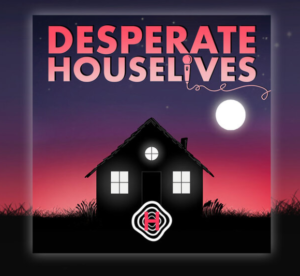 Pierrot:  Here at Hörverlag (one of the audio imprints at Random House Germany), we've started a great podcast for the crisis called DESPERATE HOUSELIVES. German actors and celebrities tell stories from their life in quarantine, read from their books or even sing some special songs. All episodes are full of valuable and at times funny tipps to get through these hard times a little easier. I am also reading CORONA UND WIR  (Corona and Us), published by my colleagues at Penguin Germany, which is inspiring and instructive. It is exactly the knowledge a marketing expert needs to widen the horizon.
Susanne:  A great thriller set at the edge of the world, in the Arctic, at the northernmost tip of Norway. It's written by our fantastic YA-author Elisabeth Herrmann, and I'm completely absorbed by this natural world, so fascinatingly remote. Likewise by the deeply disturbing story, which almost comes too close. The book is yet to be published, I'm afraid – so until then, I have the pleasure of reading it in secret.
Posted: May 1, 2020