Inspiration, Challenges, and Advice From Penguin Random House India
How Penguin Random House Management Stood by Us Is Truly Exemplary. 
Interviews with Sameer Mahale, General Manager, Sales, Penguin Random House India and Arjun Sharma, Senior Manager, People Team, Penguin Random House India
INSPIRATION
Sameer: The way the PRH management team stood by each and every employee is truly exemplary. It started with keeping employees protected from the infection at workplace even when there were no cases in India. Sanitisers were placed in office in early March and office was being sanitised at regular intervals. WFH was implemented well in advance and when government announced lockdown, it was ensured that every employee has all the technology and machines to maximise their ability to work remotely. Thus, employee well-being was at the forefront at every stage.
I've also enrolled myself for few online courses. World is changing. We all need to upskill & adapt ourselves to stay in the game.
On personal front, I learnt to cook during this lockdown. I've been cooking at least 4-5 dishes every week and it's hugely satisfying. Cooking is a life skill and I am just loving the experience. My son, who never used eat Spinach, loved my Spinach & Cottage Cheese Curry and now makes me cook it twice every week. And finally, I understood how much money one can save by cooking at home than eating at a restaurant.
Arjun: Witnessing the how the team force came together with a better understanding and patience for each other's personal constraints. The current scenario has sensitized people of how some of our team members could be staying alone, may not have proper support at home and yet they deliver on tasks. That is truly commendable. This spirit of 'work is to be done' with 'best available options' has really inspired me.
CHALLENGES

Arjun: Visibility of People Sentiments: Being in HR one of the things I always keep an eye on is 'People Sentiments' in PRH India. I would go around have random conversations with people, just to understand the general mood of the organization. I would prefer to walk to their desks and have a face to face conversation. It leads to a better connection with people and help devise HR processes and strategies being more aligned to people's needs.
Time Management: My family has never seen me so regularly available, since the day I have started my college. Now, when I'm home with the family, they have an expectation to sit with me and have those ever pending conversations. It becomes very difficult to make then understand the concept of 'Work-from-Home'. Hence, the time distribution between office work and family is one challenge.
Sameer: The fact that books were not included in 'essential services' was very frustrating. I've been regularly interacting with bookstores, distributors, authors and everybody is uncertain about the future—especially next 6 months. We know for sure that people are wanting to buy books and trends are indicating that people are reading much more during the lockdown than they used to read before as there is a limit to the amount of TV one can watch. Indian readers prefer print books and unfortunately, they are unable to buy physical copies during the lockdown.
On personal front, I am finding it very difficult to motivate myself to exercise every day. I did it for first 2 weeks, but couldn't continue it. One can't even go down to jog or exercise in the garden and that can be demotivating.
ADVICE
Sameer:  I would give five simple tips to navigate through these challenging times.
Self-discipline is the key. Fix a daily routine and try to stick to it.
Avoid ready meals/junk food and have healthy home cooked food every day.
Keep talking to your colleagues, friends, relatives – preferably thru video calls.
Don't get too obsessed with Covid19 news, stories and reports. Rather spend time reading books, learning new skills or watching movies/documentaries/web series.
Finally, please ensure to have a good posture while working on laptop. Last thing one would want is to develop other health issues during the lockdown.
Arjun: Stay calm and stay connected!
We all are going through an unprecedented situation, both personally and professionally. Identify a group of people with whom you are most comfortable with and a way to connect with them regularly. Fortunately, we are in the times where technology can do this easily!
Do not assume but ask!
These are the times of rumors being spreading like wildfire. These could impact your psyche in drastic ways. Please make the effort to confirm facts. We cannot fall into the hands of panic.
Reboot your health!
Since junk food is out of our reach, just identify one healthy practice like meditation, yoga, aerobics, etc. to build on this opportunity to reboot your health and fitness.
BOOK RECOMMENDATIONS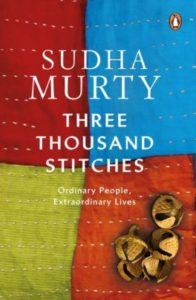 Sameer: I've also been reading much more than I used to. I used to read one book a month. Now I have been reading one book every week. I've finished Sudha Murty's THREE THOUSAND STITCHES which is truly delightful and inspiring read during these challenging times. I have just started reading Yuval Noah Harari's Sapiens and I am hoping to finish it within a week.
Arjun: I was looking for reads that can take me out for a journey away from these disturbing times. Hence, I decided to revisit my childhood reads. My reading list includes 'The Jungle Book' and 'Calvin & Hobbes.'
Posted: May 1, 2020