Inspiration, Challenges, and Advice From Penguin Random House UK
Thrilling, Imaginative Adaptations and Inventiveness for Our Publishing Opportunities. 
Interviews with Aynsley Martin, Senior HR Manager, Penguin Random House UK and Roy McMillan, Executive Producer, Audiobooks, Penguin Random House UK.
INSPIRATION
Aynsley: How everyone has rallied to support each other with our different, and sometimes difficult personal circumstances.  I'm glad and proud that following the closure of schools and nurseries across the UK, we quickly accelerated our plans to create a virtual support network and share resources for and stories from our working parents as part of the Penguin Parents project. It's been such a relief to hear about other parents' challenges, triumphs, coping strategies (not all involve wine) and systems.  It really helps knowing you're not alone.  My fellow HR team members have kept me entertained with stories and photos of their pets, housemates, kids, beverages, and deluxe sequined outfits. I've loved getting to have a (virtual Zoom) nosy around everyone's homes!
Roy: I've been absolutely staggered by the imaginative adaptations and inventiveness of the whole Audiences and Audio team. In audio, my colleagues have managed to move almost all the studio recordings into home-recordings, with producers directing the performances down the phone. This has involved enormous complexity—liaising with readers, agents, audio editors, audio producers, supplying recording equipment where necessary, allowing extra time for liaising between readers and editors, putting readers in touch with editors to optimise sound quality, getting readers to become their own technicians … among a great many other things.
CHALLENGES
Roy:  If you don't live alone, then when you work from home, you're not working from home. You're working from someone else's home. If you have children, you are working from someone else's home, inside which is a functioning school and a collection of individuals who all have very significant and often conflicting requirements. You have to navigate an entirely different water from your usual one, working around many otherwise unknown obstacles and frequently in currents running counter to your own direction of travel. Flexibility is essential, but even that isn't enough sometimes.
Aynsley:  Juggling work whilst looking after my 3 year old son, Douglas, has been a challenge, particularly during very busy periods. I feel guilty when he gets upset when I can't play with him all the time, or he can't have a cuddle because I can't type one handed while I'm on a conference call. When I tell him I have to finish my work he says, "but Mummy you're taking a long time!" (Tell me about it, kid!)  However, as hectic and demanding as it is, I know I will look back on this time and appreciate we were able to spend these days together.
ADVICE
Aynsley:  Take it a day at a time, and don't be afraid to share any worries or concerns you have with a colleague. Try to use "extra" time you would have spent commuting or in your work life doing something that brings you pleasure. This week I've been enjoying making lunch (I'll admit in lockdown weeks gone by it's been a hassle) as with our lovely warm spring weather I've been inspired to make some great salads. In normal times, prepping lunch to take into the office in the morning or evening would seem like just another chore, but at the moment I love the break it gives me during the day. (And the results are yummier than a Pret salad!)
Roy:  I'm a bit wary of offering advice, since everyone's situation and experience is going to be so different. But I've found it very hard to adjust to the situation at home, partly because when I'm here I feel I ought to be a parent as well as an audiobook producer. Or perhaps I am just very aware that I get to run away to a lovely office with exceptional colleagues and really good equipment (and an excellent cafe) most of the time; whereas here, I'm often just a bit of a demanding impediment to the routine my family have worked out without me. The dislocation of office work into the home space is uneasing. So my advice would be—remember who you love, and make them your focus; make space for yourself—your concerns, your worries—otherwise the claustrophobia of isolation and professional obligation can make everything feel too demanding; and stop for a while—literally!—and look at whatever part of the world you can see with something like wonder.
BOOK RECOMMENDATIONS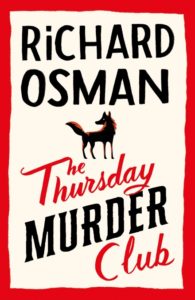 Roy: I have loved almost every one of the books I've worked on, but LIFE: A USER'S MANUAL and THE THURSDAY MURDER CLUB have been brilliant for very different reasons recently. Away from work itself, I've nearly finished the mammoth Jerusalem by Alan Moore, which is about 300 pages too long (at least …) but is wonderful and extraordinary and funny and moving and thrilling. And the list of books I'm looking forward to is far too long to include here.
Aynsley:  Escapist fiction is what interests me at the moment, so I am currently reading MIX TAPE by Jane Sanderson. I feel immense regret that I have a large TBR pile at my desk back in the office.
Posted: May 1, 2020