Inspiration, Challenges, and Advice From PRH Grupo Editorial
Learning to Enjoy My/Our Colleagues–Remotely. 
Interviews with Pablo Gracia, Marketing Product Manager, Plaza & Janés; Berta Noy, Literary Director, Ediciones B, Plan B, Nova, Vergara; and David García Escamilla, Editorial Director, PRH Grupo Editorial México
.
INSPIRATION
Berta: I have realized how much I like the people I work with, how nice is to see them every day at the office, to share jokes and coffees and camaraderie and the sense of common understanding that we share in our otherwise very intense and challenging daily job. Because I miss this contact so much, I think I will value it even more when we all get our routine back.
Pablo: The most inspiring aspect about working from home has been to discover how all teams have quickly adapted to this completely new situation. It's very interesting to learn that tools like WebEx are really useful to carry on with our meetings and duties. There's a lot of online creativity that we can use to improve goals.
David: Seeing my colleagues, my team, authors and agents adapting, and sharing their collective desire that this experience lets us keep working and doing what we love most despite the unusual tough conditions.
We have for the first time, and because of COVID contingency opened a Facebook Group in which we are all sharing our day-to-day experiences, simple acts of happiness and the way we have all adapted to change. It has also been a great opportunity to learn personal things about them, such as who have pets, who´s child had a birthday this month, which colleagues can say hi window to window, which teammates are great plant keepers or puzzle solvers, etc.
CHALLENGES
Pablo: The most challenging thing has been trying to maintain the usual workflow given the new circumstances: maintaining work groups, meetings, promotional campaigns and marketing actions that we had planned. I also think this is interesting to reinvent ourselves and turn the perspective towards the digital world with focused and innovative actions.
David: Doing actual home office for a long stretch of time. I always dreamed of doing home office thinking that it was the best way of focusing and right now, I cannot wait to get back, work in my own office, make myself a nice cup of coffee in our office machine, and not have to worry about cleaning the house constantly and fixing lunch, day in and day out.
Berta: We work with many different people from several departments. To keep the communication organized and clear is not easy from the distance. It is important to stablish proper channels for decision making and to avoid overlapping and contradictions.
ADVICE
Pablo: What I'd recommend to my collegues is to keep in contact with teammates as much as posible: meetings, catch ups and updates to keep track on everything is going on. Also I think this is a unique opportunity to spend extra time at home enrolling online courses.
Berta: Before talking to any one, try to cheer your mood up to spread only good vibrations. With your direct team, try to talk at least once a day with everybody and in terms of giving directions do not take anything for granted, less than ever: make sure your message has been understood, make questions to make sure everybody is on the same page. In general, be patient and have empathy, as this situation is difficult for everyone.
David: Organize yourselves; do not wake up late, drink water the whole day long, while you are sitting in front of the computer. Get a bit of sun and fresh air whether it is from a window, balcony, garden, porch or unpopulated backstreet. Breath and stretch.
BOOK RECOMMENDATIONS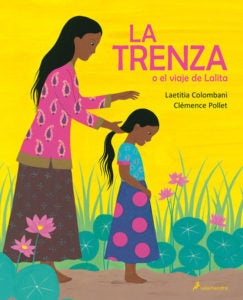 Pablo: The last book I read is Jia Tolentino's TRICK MIRROR, reflections on self-delusion. An interesting non fiction bestseller about millenials with different topics as sociology, the Internet, Social Media, feminism, etc. Also I'm looking forward to watch on Netflix Valeria, the upcoming series based on Elísabet Benavent books, one of our bestsellers authors in Grupo Editorial. It premieres in May worldwide!
Berta: I have just finished LA TRENZA (The Braid), by Laetitia Colombani. I have loved it! It is touching and tender and inspiring.
David: I am actually reading a manuscript called "That Instant" by Silvia Cherem. She is a Mexican author, writing about that moment of impact that changes your life forever. I cannot help but think this subject has come in at a crucial point in the situation we are in, where our lives as we knew them have changed 180 degrees and we are uncertain about what the future will bring. Even though, right now, we cannot even imagine, the attitude that we take towards this will have its own effect on the outcome. As do the lives of the people in Silvia's book.
Posted: May 1, 2020