Interview with Andrés Ramírez, Director Editorial División Literaria y Bolsillo, Grupo Editorial Mexico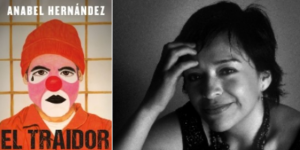 About EL TRAIDOR by Anabel Hernández: EL TRAIDOR (THE TRAITOR) is one of the most ambitious journalistic investigations in Anabel Hernández's career. Her story dates back to January 2011, when she was contacted by one of the lawyers of Vicente Zambada-Niebla—son of one of the most dangerous Mexican drug traffickers and associate of "El Chapo," who was facing a criminal trial in a court in Chicago. His intention was to reveal secrets about the connections between these gangster warlords, high-ranking government executives, and police officers.
INTERVIEW

Why do you believe this title is so popular with readers?
The author has acquired a reputation as one of the most reliable investigative journalists of the last decades. "Her storytelling becomes a way of revealing an entire world," said Roberto Saviano; and The Sunday Times has called her "brave and invaluable" for previous books such as Narcoland (Verso, 2013) and A Massacre in Mexico (Verso, 2020). In these pages Hernández explores deep into the infamous Sinaloa Cartel through the story of Zambada-Niebla, who clearly shows how the corrupt system that gives life to the criminal organizations works. Above all, this book reveals the profile of a man who has been the king of drug trafficking for the last half-century: Ismael Zambada, known as "El Mayo."
When and how did the idea for this book come about?
The idea for the book came after the author obtained access to court and legal documents, firsthand sources, and—above all—the diary that Zambada-Niebla wrote in prison, where he detailed the operations of the criminal organization to which he belonged and the bribes that were paid to the federal Mexican authorities who were supposed to fight crime.
What was special about this marketing campaign and how did it differ from traditional campaigns? How was the launch impacted by the pandemic?
The book was published at the end of November 2019. It was launched in a crowded presentation at the FIL Guadalajara that year and immediately had a massive reception. The marketing campaign was based on a traditional series of radio spots, but what helped the most was the incredibly fast word of mouth. It was right around this time that one of the central characters of the book was arrested in Grapevine, Texas: Genaro García Luna. He was charged in a New York federal court with drug trafficking, false testimony, and corruption. The book was immediately reprinted, and in a few days it sold more than 50,000 copies. The pandemic reduced the great rhythm of sales that it had; however, it remained at #1 in Nielsen BookScan, being one of the best-selling books online, both in its electronic and printed versions in Mexico.
Posted: December 8, 2020