Interview with Anita Chong, Senior Editor, McClelland & Stewart, PRH Canada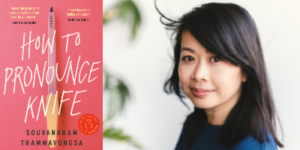 About HOW TO PRONOUNCE KNIFE by Souvankham Thammavongsa: The 2020 Scotiabank Giller Prize winner and one of Time magazine's Must-Read Books of 2020, an exquisite debut collection of short fiction from a prize-winning poet whose standalone stories have received much international acclaim.
A young man painting nails at the local salon. A woman plucking feathers at a chicken processing plant. A father who packs furniture to move into homes he'll never afford. A mother who works nights harvesting worms. A housewife learning English from daytime soap operas. In this revelatory and internationally acclaimed debut book of fiction, Souvankham Thammavongsa honours characters struggling to find their bearings far from home, illuminating their hopes, their disappointments, their acts of defiance, and, above all, their pursuit of a place to belong.
INTERVIEW

Why do you believe this title is so popular with readers?
The winner of the Scotiabank Giller Prize can expect to be instantly catapulted into the national spotlight. Yet the response HOW TO PRONOUNCE KNIFE has received throughout the English-speaking world and from booksellers and readers alike, and all this well before the Giller announcement, is a reminder of how good stories can resonate powerfully with readers.
And that intimate engagement begins with the book's title. The central moment depicted in the title story—a child refusing to accept that the pronunciation of the word knife she learned from her father is incorrect—has prompted readers to share personal stories of being similarly confounded by an unfamiliar word in a language that is not their mother tongue. In this moment, like so many other moments in the book, Thammavongsa collapses whatever distance may exist between readers and her characters, many of them refugees and immigrants—people who are too often defined simply by how they reached this country and the work they do.
At a time when society has never been more indebted to the unsung labour and sacrifice of "essential workers," this collection gives voice to those tasked with doing the necessary "grunt work of the world"—and it does so with impeccable artistry, fierce pride, wry humour, and an uncompromising yet tender acknowledgement of all that it means to make a life for yourself.
What have been some of the most memorable responses the book has received?
Thammavongsa's shout-out during her Giller Prize acceptance speech to the fact that she and I were both English as a Second Language (ESL) kids ("Not bad for two girls who were in ESL") was a galvanizing moment, most of all for the many ESL students, past and present, who have so proudly claimed her win for themselves. It means a great deal to me to know that readers who still don't feel they can call themselves "Canadian" despite having lived in Canada for decades—and I include my own extended family among them—can now see someone they recognize as one of their own claim Canada's premier literary prize. And it's a reminder of how we need to reimagine and expand the audiences we publish for, and ask tougher questions about both the stories we choose to publish and who gets to choose.
How does this title fit within your publisher's mandate?
One of the things I'm most proud of is how Thammavongsa's writing career has dovetailed with many of the programs that are integral to McClelland & Stewart's identity as a publisher. Her relationship with us began in 2016, when two of the stories that would eventually appear in HOW TO PRONOUNCE KNIFE were selected for The Journey Prize Stories, an annual short-story anthology dedicated to celebrating the work of Canada's most exciting emerging writers, which I oversee. In 2019, M&S also published Thammavongsa's fourth collection of poetry, Cluster, and we look forward to publishing her forthcoming first novel in the near future. I can't say enough about what a real privilege it is for us to be Thammavongsa's publishing home across all the literary forms in which she works, which is a reminder of the importance of publishing not just individual books, but authors.
What was special about this publicity campaign and how did it differ from traditional campaigns? How was the launch impacted by the pandemic?
From the moment we knew McClelland & Stewart was going to publish two books by Thammavongsa in consecutive years—Cluster in 2019, and HOW TO PRONOUNCE KNIFE in 2020—publicity manager Ruta Liormonas and I worked closely to develop a strategy that leveraged this unique double-header of a publishing plan to establish Thammavongsa as an important new voice in Canadian literature. Liormonas worked tirelessly to dramatically expand on Thammavongsa's impressive poetry connections while building early buzz for her stories among the media and the literary festival and library communities, many of whom appreciated being given such advance notice about a book that has gone on to be an incredible success. Early on, this meant that some festival organizers were reserving a spot for Thammavongsa far in advance of their usual invitation periods, while others invited her to participate in consecutive festivals, in support of both books, which is rare.
While the pandemic meant that a much-anticipated book launch didn't happen, we were fortunate to work with so many Canadian literary festivals, libraries, and bookstores that were able to pivot quickly to online events, which allowed us to highlight the trademark wit and brilliance that has made Thammavongsa such a star. To date, she has participated in more than twenty-five online events, including a Toronto Public Library interview with Ocean Vuong and a program sponsored by First Book Canada that saw her "visit" priority schools across the country.
Posted: December 8, 2020