Interview with Carmen McCullough, Editorial Director, Puffin Fiction, PRH UK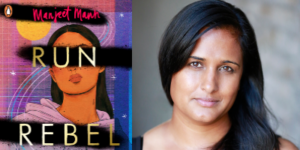 About RUN, REBEL by Manjeet Mann: This title is a trailblazing verse novel that thunders with rhythm, heart, and soul: Amber is trapped—by her father's rules, by his expectations, by her own fears. Now she's ready to fight—for her mother, for her sister, for herself. Freedom always comes at a price.
INTERVIEW

When and how did the idea for this book come about?
I was first introduced to Mann and this incredible story when I became her mentor in Penguin Random House's WriteNow programme. One of the benefits of this mentorship programme is that it gave Mann and I the creative space to take her phenomenal natural talent and the sparks of brilliance in her partial manuscript (at the time called Flying Solo) and expand and develop the story for two and a half years before publication. At the end of this time, we had RUN, REBEL—a brilliantly written and compelling page-turner that will change the way you look at the world.
The inspiration behind RUN, REBEL came from a community project that Mann created and ran in Birmingham, Folkestone, and Bangladesh called Run the World. The aim of Run the World was to unite women through running and then allow space to share their stories. Her aim was to chart the empowerment, strength, and solidarity that women can find through sport and storytelling.
In Mann's own words: "When I started my community project, Run the World, I was devastated to find that honour-based threats and violence were still 'normal,' and yet these girls aren't veiled and meek. They are second-or third-generation, and strong and funny, with big dreams. These are the girls I grew up with, and it's their story I want to tell. Abuse transcends race, culture, and class, and although RUN, REBEL has obvious cultural references it's my call to arms for anyone who feels downtrodden."
Why do you believe this title has connected so well with readers?
What seems to come through most strongly in all the reviews of Run, Rebel is how brilliantly Mann writes about women's voices—how those voices can be suppressed and also how they can find a way to make themselves heard. Amber is a fierce, complex heroine ready to start a revolution in her own small part of the world, and I think it is her energy and courage that readers have found really inspiring.
I think readers see RUN, REBEL not just as a novel but as an act of protest, a conversation-starter, and a chance to raise your voice and be heard. And while it deals with some challenging themes, Mann's writing and the verse novel style she has perfected are incredibly accessible and fantastic tools with which to explore these issues.
What is Mann writing next?
Mann has just finished writing another powerful YA verse novel. The Crossing will publish in June 2021 and explores the tragedies of the refugee crisis through two teenagers on opposite sides of the Channel.
Natalie has recently lost her mum, and her brother is descending further and further into anger and violence with a far-right gang who march the streets of Dover. Sammy has fled his home and family in Eritrea for the chance of a new life in Europe, but it's a harrowing journey and every step he takes is a step into an unknown future. A twist of fate brings Nat and Sammy together with heartbreaking consequences.
We are really excited to launch The Crossing next year. It's a bold follow-up to RUN, REBEL, and every bit as devastating, life-affirming, and beautifully written.
Posted: December 8, 2020