Interview with Grusche Juncker, Publisher, PRH Verlagsgruppe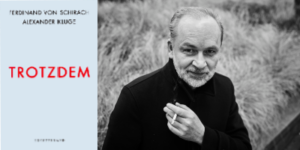 About TROTZDEM (NEVERTHELESS) by Ferdinand von Schirach and Alexander Kluge: COVID-19 has brought us to a turning point in history. Both the brilliant and the terrible are now possible. Is the current shutdown of our society also a shutdown of our fundamental rights? Ferdinand von Schirach and Alexander Kluge examine the question of what the COVID-19 pandemic means for our social order and our civil liberty.
INTERVIEW WITH GRUSCHE JUNCKER, PUBLISHER OF GOLDMANN, ARKANA, btb, KAILASH, LUCHTERHAND, MOSAIK, AND WUNDERRAUM

Why do you believe this title is so popular with readers?
Apart from the fact that Ferdinand von Schirach and Alexander Kluge are highly respected authors in Germany (and well known for their knowledge in history, civil rights, and philosophy), the popularity of this title came with its up-to-dateness. The book was a direct response to the pandemic's impact on our society and individual people. A truth was put into words most people did not even think about (or did not want to talk about) at this point back in April: that the world as we knew it had already changed. This is the turning point when we have to ensure that we are heading in the right direction.
When and how did the idea for this book come about?
This book was not planned; the content is based on a spontaneous conversation between the two authors via Skype, combining this very special situation of pandemic times and the questions we all had: about our rights and personal freedoms, the legitimacy of the given restrictions, and the assignment of our state, of the executive, of democracy. As von Schirach states: "We live in democracies, we have a separation of powers. Parliament still has to decide, and that must not change. Our democracy does not yet seem to be under threat. But things can topple. Authoritarian structures can become entrenched, people get used to them. Erosions are slow demolitions, not sudden events."
What was special about this marketing campaign and how did it differ from traditional campaigns? How was the launch impacted by the pandemic?
Since we are talking about a publishing date during the lockdown, it did not make sense to do any out-of-home or point-of-sale marketing for this title—tools that usually have a big impact in Germany. The situation back in April gave us the chance to focus on only one marketing channel and to reach a huge number of readers: We composed a social media campaign via Facebook and Instagram. Since we were in a hurry to publish the title as quickly as possible, the ebook came out two weeks before print. Our marketing activities started with the digital format, already creating hype for the physical book.
Posted: December 8, 2020