Interview with Manasi Subramaniam, Executive Editor, Head of Literary Rights, PRH India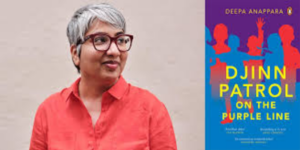 About DJINN PATROL ON THE PURPLE LINE by Deepa Anappara: Nine-year-old Jai drools outside sweet shops, watches too many reality police shows, and considers himself to be smarter than his friends Pari and Faiz. When a classmate goes missing, Jai decides to use the crime-solving skills he has picked up from TV to find him. He asks Pari and Faiz to be his assistants, and together they draw up lists of people to interview and places to visit. Drawing on real incidents and a spate of disappearances in metropolitan India, DJINN PATROL ON THE PURPLE LINE is extraordinarily moving, flawlessly imagined, and a triumph of suspense. It captures the fierce warmth, resilience, and bravery that can emerge in times of trouble, and carries the reader headlong into a world that, once encountered, is impossible to forget.
INTERVIEW
Why do you believe this title is so popular with readers?

DJINN PATROL ON THE PURPLE LINE is many things. It is an empathetic portrait of metropolitan India. It is distinctive in its style, precise in its characterization, and unforgettable in its atmospheric touches. Overall, it is a triumph of storytelling. Deepa Anappara's ability to write about urban poverty without cliché or romanticization speaks volumes about her skill as a novelist, as well as the years of careful study and research that went into this book. What this novel does with a very real issue is offer it a kind of intimacy that seems possible only with fiction—and she does it with extraordinary sensitivity and the lightest of touches.
How was your experience working on a debut fiction? During commissioning/acquisition, what aspect of this novel did you find most fascinating?
As its editor, I would be remiss if I did not also point out that this novel is at the same time a good old-fashioned detective story, a whodunnit that's brimming with suspense, relying on the kind of airtight plot that is the mark of the very finest crime fiction. Reading the manuscript, I found myself drawn into the energetic, entertaining, and compulsively readable story, and only afterward thinking about the harsh realities of corruption, inequality, and the status of the rights of children that the novel underscores. This is what I found most remarkable about DJINN PATROL ON THE PURPLE LINE. It's a cracking good story. The message comes later.
What was special about this marketing campaign and how did it differ from traditional campaigns? How was the launch impacted by the pandemic?
DJINN PATROL ON THE PURPLE LINE received enormous critical attention during the first month, i.e., February, including a coveted cover story on Mint Lounge and widespread support from booksellers. At awards season, we saw it shortlisted for the JCB Prize, the Tata Prize, and the Atta Galatta Prize, among others. Since the lockdown in March, we pitched the book to online literary festivals, and Anappara had wonderful online sessions with the Jaipur Literature Festival, the Tata Literature Festival, and others.
Posted: December 7, 2020