Interview with Pippa Parker, Publisher, PRH South Africa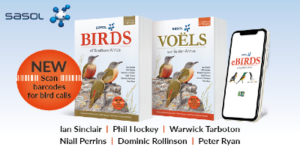 About SASOL BIRDS OF SOUTHERN AFRICA—5TH REVISED EDITION: The first edition of SASOL BIRDS was published in 1993. It became a landmark publication and a highly sought-after field guide for bird identification in southern Africa. The book has run to five editions, with numerous reprints in between, and over the years has sold in excess of 300,000 copies. With Sasol (an oil company) as sponsors, the name Sasol Birds took hold, and has persisted. The book is available in five editions (English and Afrikaans, both in softcover or with PVC cover, and in a larger-format English edition). There is also an app spin-off, Sasol Ebirds Southern Africa, which in itself is highly popular.
INTERVIEW

Why do you believe this title is so popular with readers?
The book's original claim to being the most comprehensively illustrated field guide to the region's birds was entirely true. It featured several plumages (male, female, juvenile, etc.) for each species, and at the time set a new standard for bird field guides in southern Africa. The illustrations were produced by accomplished bird artists, and the author team was equally accomplished. The book was up to date, the identification information was succinct and accurate, and the overall package was attractive and accessible.
When and how did the idea for this book come about?
Birding is a popular hobby worldwide, and southern Africa is home to nearly 1,000 bird species, so there is a great need for identification guides—for both local and visiting birders. At the time (1993) there was gap in the market for an up-to-date, modern, comprehensive field guide. The demand for this title continues.
Why are new editions necessary and what is special about the latest fifth edition?
In each new edition we seek to improve markedly on the previous one, and to ensure that the book is brought up-to-date and remains accessible. We update and improve the illustrations as new information comes to light, we include new bird records, and text and distribution maps are updated in line with new research. The latest fifth edition saw the most significant and innovative changes of all the revised editions. Among the standard updates and revisions:
We brought in two new young authors who reviewed the text thoroughly, offering fresh insights and ideas.

We replaced more than 800 illustrations, including much improved plates for all seabirds and birds of prey.

We provided access to bird calls for the majority of species via one's cell phone or tablet. Calls are accessed by scanning barcodes, using a free downloadable Call app. The app is packaged with all the calls, so Internet connectivity is not required (ideal in remote, off-the-grid localities).
What was special about this marketing campaign and how did it differ from traditional campaigns? How was the launch impacted by the pandemic?
Nature Marketer Belinda: Our initial marketing campaign was geared toward traditional marketing, which included point of sale for national bookstores—dumpbins, posters, and sensor sleeves—but this was pulled due to lockdown. The focus was then shifted to targeted magazine ads and online marketing and events. Both Sasol and BirdLife South Africa (both key partners for us) ran Sasol Birds campaigns on their social media, which increased the reach tremendously. We created two promotional videos: one combining clips from the authors and illustrators talking about the book , narrated by publisher Pippa Parker, which shows how Sasol Birds has progressed from the initial guide through to this latest fifth edition. We also had a full update of the sasolbirds.co.za website.
The official launch event of SASOL BIRDS 5 and the Sasol eBirds app, which was initially planned to be at a lovely venue, was moved online, and it proved to be one of our most successful launches yet! We worked with BirdLife South Africa to create a really special and innovative event, with 1,841 attendees (combined Zoom and Facebook) from all over the world. Some people wrote that it was the highlight of their lockdown, which was just absolutely fantastic to hear.
The livestream of the launch can be seen on our Struik Nature Club Facebook page here or on our YouTube channel here. This event was followed by a few other very successful webinars and events.
Posted: December 7, 2020