Interview with Sarah McGrath, SVP & Editor-in-Chief, Riverhead, PRH U.S.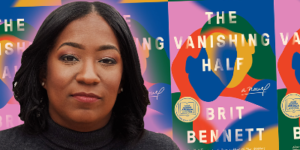 About THE VANISHING HALF by Brit Bennett:  From The New York Times-bestselling author of "The Mothers," a stunning new novel about twin sisters, inseparable as children, who ultimately choose to live in two very different worlds, one black and one white. Still, even separated by so many miles and just as many lies, the fates of the twins remain intertwined. What will happen to the next generation, when their own daughters' storylines intersect?
INTERVIEW

Why do you believe this title is so popular with readers?
The Vanishing Half delivers a knife-sharp evocation of this country's social and racial landscape, while offering an emotionally precise, sensitive portrait of two generations of Black Americans figuring out who they are and who they want to be. Within a riveting, propulsive plot, Bennett brings valuable nuance and understanding of the way that betrayals and losses accrue and matter, the degree to which people and communities are shaped by their traumas as well as their triumphs. Different readers respond most powerfully to different elements, of course. For some it's the warm beauty of Bennett's prose or the tender understanding she shows to her flawed characters. For others, it's the honest light she shines on America's history of racism and colorism, or the wisdom and complexity she brings to questions of identity. And of course there is the provocative, twist-taking, conversation-starting plot. But every one of these elements stems from Bennett's own rare storytelling gifts. The truest reason for the book's popularity is Brit Bennett herself.
When and how did the idea for this book come about?
The short answer is that Bennett was inspired by a story her mother told her in 2015. The story was about a mythical town in early 20th century Louisiana where Black residents intermarried so that their children would get lighter and lighter. Bennett kept thinking about it and began to imagine twin sisters born in a place like this, with their lives diverging to opposite sides of the color line. As she wrote, the story expanded into the next generation, as the twins' choices rippled through the lives of their own daughters, each one forced to reckon with the complicated secrets she'd inherited. Ultimately it became a story about the liberation and pain of transformation. What do we gain and what do we lose in becoming someone new? 
What was special about this publishing campaign and how did it differ from traditional campaigns? How was the launch impacted by the pandemic?
When I think about it, the publishing campaign for The Vanishing Half really began way back when we were first publishing Brit Bennett's first novel, The Mothers, in 2016. The creative vision and work that went into making The Mothers a New York Times bestseller (even in the distracting shadow of the 2016 election), and establishing Brit as the rare talent that she clearly is, was foundational four years later in our campaign for The Vanishing Half. True, with the pandemic nothing looked the way we expected it to come publication day. But we had many important promotional pieces in place and the bookseller devotion was intense from Day 1, reaching back to the fandom for The Mothers. And then the overwhelming rave reviews just came flooding in. Through it all, Brit was an incredibly good sport about the endless hours she spent alone in her living room, speaking to the world through Zoom, for weeks on end, and then months on end. I do look forward to a different publicity format for her next book though.
Posted: December 8, 2020