Interview with Stephanie Milner, Senior Acquisitions Editor, DK Life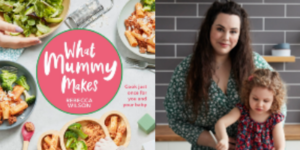 About WHAT MUMMY MAKES: Rebecca Wilson's WHAT MUMMY MAKES is a family cookbook like no other, where the whole point is to cook just one meal that the whole family will enjoy. All of the recipes are suitable for feeding children aged six months and up, and are comforting for adults, too. And they can all be prepared in under 30 minutes. I cook from it all the time. I baked the advent cookies just last weekend.
INTERVIEW

Why do you believe this book is so popular with readers?
Wilson's passion for making wholesome home-cooked food easy and fun for new parents and families makes what can be a very daunting task for parents and caregivers easy. She provides uncomplicated recipes and clever time-saving hacks that really work, and her audience loves to talk about it. 
How did the idea for this book come about?
Wilson set up her Instagram channel to help parents and caregivers wean their children onto solid foods after noticing there wasn't much advice available for families on social media when it came time to wean her own daughter, Nina. Her following grew so quickly because real parents and caregivers who liked Wilson's approach to family mealtime were recommending her account to their friends. It became apparent that a book would deliver so much value to families that were looking for advice, and the WHAT MUMMY MAKES cookbook proposal was born.
What was special about this marketing campaign?
Our team worked incredibly closely with the author to create a multiplatform campaign that worked for print (first serialisation in the UK in The Sun newspaper) and online. They curated fantastic social media buzz through working with influencers and supported the launch with optimized metadata feeds and visual materials that are more important now than ever. As a result, the book now has more than 4,000 Amazon reviews (avg 4.8 stars) globally. We also worked closely with UK bookseller WHSmith to supply copies, which were signed by the author at her home due to lockdown restrictions. The hard work our team put into launching this title was rewarded when WHAT MUMMY MAKES shot straight to the top of the UK Sunday Times Bestseller list and reached #1 in the UK Book Chart for nonfiction and #1 bestseller on Amazon UK. It hasn't left the weekly top 20 Food and Drink chart (Nielsen BookScan) since publication and has now sold over 100,000 copies globally to date, and to top it off, it has just won silver in the UK Junior Design Awards 2020 in the category of Best Family Cookbook.
Posted: December 8, 2020