Interview with Xiaorui Su, Jillian Lee, and Sasha Lang, PRH North Asia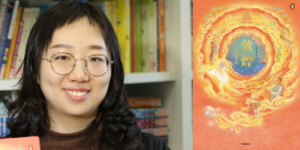 About DUNHUANG: A Geographical & Cultural Picture Book by Xiaorui Su: On a hot summer day, Lulu and her father were on their trip in Dunhuang. She picked up a stone that looked like a face of an old man and brought it home. Actually, she awakened the memory of the weathered stone.
When the old stone was young, it experienced the integration among various ethnic groups and the construction of the Great Wall. It took a meditation practice with a monk in a grotto and made paints out of Lapis Lazuli from the Western Regions in Tang Dynast. As time went on, DUNHUANG became an international subject in the 20th century. Nowadays, it is protected digitally with the help of a HD video camera.
INTERVIEW

Why do you believe this title is so popular with readers?
Jillian LEE, editor of  DUNHUANG: Chinese geographical and cultural titles have become popular in the Chinese market since 2017. Almost during the same time, domestic study tours were booming. Therefore, the identity reconstruction of Chinese people was one of the outstanding cultural tendencies. A text about DUNHUANG from a Chinese class in primary school encouraged me to put the idea into a real book (as further reading material, I thought).
Additionally, there were a large number of European and American picture books published in China in the past ten years. Some of them have been recommended by Chinese teachers in schools and sold well. So I guessed a picture book focusing on local content might be a success as well through this kind of distribution channel. 
When and how did the idea for this book come about?
Xiaorui SU, author of DUNHUANG: It was Mogao Caves (Caves of a Thousand Bhuddas) that led me to DUNHUANG. When I was a graduate in architecture school, I became interested in rock-cut architecture. There are several cave sites across China, of which the Mogao Caves are the most worth learning about. I wished I could create a picture book to tell the ups and downs of the place, starting with DUNHUANG, the city that hosts the Mogao Caves.
When I learned that Jillian from PRH initiated a children's title of DUNHUANG, I recommended myself and soon we began to work on it together. What I hoped for was a book that would enlighten young readers instead of teaching. A pebble brought back by Jillian gave me the inspiration. It was innumerable peddles that formed the Gobi Desert, constructed the Great Wall and later made up the Mogao Caves. So I wanted this to be the narrative of my book.
What was special about this marketing campaign and how did it differ from traditional campaigns? How was the launch impacted by the pandemic?
Sasha LANG, Marketing Executive: DUNHUANG came into the market in March this year. The epidemic outbreak forced us to adopt a new marketing model – livestream sales. At first, the live streaming could be seen as virtual author visits. (We bought the author professional equipment and even a ring light like beauty bloggers.) Later, the solo was expanded into a DUNHUANG-themed series of lectures given by expert, docent and curator from different places. In terms of inviting guest speakers, it was more convenient and cheaper than a traditional event.
Selling books through livestreaming required product knowledge and livestream terms. On that basis the speaker, that is to say a livestreamer, were supposed to interpret the book for viewers, thereby turning them to buyers. For example, the specific knowledge about DUNHUANG would be emphasized. Since DUNHUANG was also a famous tourist area, it would be very attractive to viewers who stay at home for a long time and was desperate for a trip.
There was a purchase link on every livestream room to make sure that viewers could buy the books during the session. Once, we livestreamed on three platforms simultaneously, including TikTok, and sold more than 100 copies in one and a half hours. The time-limited sec-killing always brought the sales peak.
Posted: December 8, 2020