Interview with Gaurav Shrinagesh, CEO, Penguin Random House India and SEA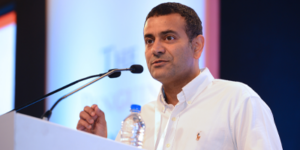 "The many stories of hope and resilience from around the world have been a great source of inspiration. To read about what people and communities have been through and continue to go through and the positive ways people are dealing with such suffering."
What have been your biggest learnings from COVID-19?
The nature and severity of the crisis have been such that no amount of planning could have prepared us. There are many key learnings, but I'd like to highlight the following ones:
In the initial stages:
We had to focus more on employee safety and ensure open communication while maintaining a laserlike focus on our immediate priorities.
We had to maintain as clear a view as possible in order to anticipate issues that could arise.
Once the dust settled:
We had to learn what resilience and agility actually means for the business: being comfortable with a rapidly changing situation, and ensuring continuity in an extremely difficult business and personal environment.

We ensured that operations and business continued and generated cash flow.

We had a plan and kept evolving, remained positive, and pivoted as new opportunities presented themselves.
The pandemic highlighted the weaknesses in our businesses and enabled us to take appropriate action to fix these issues.
What has inspired you during this time?
The many stories of hope and resilience from around the world. Reading about what people and communities have been through and continue to go through and the positive ways people are dealing with such suffering.
What are some challenges you, personally as CEO, and your local territory have been facing?
India probably went through one of the most extensive lockdowns globally in the second quarter of 2020. This had a severe impact on the economy (GDP at ‒24 percent) and subsequently on the book market here. We had to change course very quickly to cement an online presence to enable physical book sales to continue in a market where offline sales had almost stopped. While e-book and audiobook sales improved, it was still too low to make a substantial difference. Finally, to ensure the teams were motivated to keep going, we stayed on course and used this time to build on our competitive advantages as market leaders, so when we come out of this crises, we will be stronger than where we were before.
Do you have any advice for our global colleagues?
Let's keep our chin up and continue to take care of our people and our business. We do what we do well and learn how to improve on areas where opportunities exist. Make the difficult decisions. Penguin Random House has great leadership, and we are clear in the direction we are moving in.
Posted: October 6, 2020