Han Kang's THE VEGETARIAN Wins the 2016 Man Booker International Prize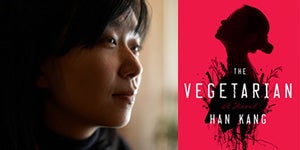 The winner of the 2016 Man Booker International Prize is Han Kang, for THE VEGETARIAN, published by Hogarth, an imprint of the Crown Publishing Group, it was announced on Monday in London. Ms. Han shares the award with the book's translator, Deborah Smith, the pair splitting the most prestigious prize for translated fiction in the UK. Warm congratulations to Ms. Han and her publisher, as well as Ms. Smith.
THE VEGETARIAN is the first novel by Ms. Han to be translated into English, and tells the story of Yeong-hye, a dutiful Korean wife who decided to give up meat to the surprise of all around her. Boyd Tonkin, chairman of the 2016 judging panel, said: "This compact, exquisite and disturbing book will linger long in the minds, and maybe the dreams, of its readers. Deborah Smith's perfectly judged translation matches its uncanny blend of beauty and horror at every turn."
This is the first year the Man Booker International Prize was awarded to a single book, with previous awards honoring an author's body of work. Prior winners include Penguin Random House authors Chinua Achebe (in 2007) and Alice Munro (in 2009).
Posted: May 17, 2016