Readathon Now Includes Facebook Donate Option and Profile Picture Frame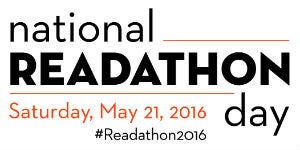 As we near National Readathon Day, happening this Saturday, May 21, readers everywhere will now be able to contribute to #Readathon2016 through its newly launched Donate campaign on Facebook. All Facebook users will be able to make a commitment to early childhood literacy through the Donate button now available on the ALA Facebook page, which seamlessly facilitates swift and secure online contributions to National Readathon Day on the Facebook platform. Users will also be able to share their love of reading by updating their Facebook profile picture with a soon-to-be-released custom National Readathon Day profile picture frame, which will be available on the ALA and Penguin Random House Facebook pages.
National Readathon Day is a fundraising and social media awareness campaign dedicated to promoting children's literacy and reading at any age. Leading up to and during the Readathon, readers everywhere will share their love of reading on social media using the hashtag #Readathon2016, and raise funds for early childhood literacy through ALA's Every Child Ready to Read initiative, helping programs in public libraries nationwide. The #Readathon2016 Facebook Donate campaign enhances and unifies these core goals, enabling any Facebook user to make a commitment to Readathon and the ALA with one click, and to join together with friends and fellow readers around a common cause.
All readers are encouraged to join National Readathon Day by using the hashtag #Readathon2016, to visit ALA's Facebook page to make a contribution, and to update their profile picture with the National Readathon profile picture frame.
Libraries, bookstores, schools and other community gathering places across the country are planning Readathon events. Visitors to the National Readathon Day reading parties page will find ideas about how to host a party or locate the nearest National Readathon Day event.
Visit www.readathonday.com for more information.
Posted: May 15, 2016