Andy Weir
July 3, 2018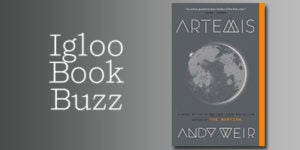 Our special 4th of July Igloo Book Buzz selection is the new paperback edition of Andy Weir's New York Times bestseller, ARTEMIS, on sale today, July 3, from Broadway Books.  Weir talks about the creation of his latest novel: "I wanted to write a story about the first human settlement off of Earth. And I just really think that'll be on the Moon. It's so much closer to
expand
Earth than any other celestial body. Most importantly, it's close enough for trade and tourism. Also, I wanted to push myself – I wanted to make stronger, more complex characters. So my protagonist, Jazz, is much deeper and far more flawed than my protagonist, Mark Watney, was in THE MARTIAN. I'm happy with the way it turned out." 
Julian Pavia
 says, "Working with Andy Weir these past few years has been an incredible experience. Not just watching THE MARTIAN go from self-published novel to hardcover bestseller to full-on phenomenon, but getting to see Andy respond to it all. As crazy as this journey's become and as much as his life has changed, he's taken every twist in stride and has never lost his sense of perspective. With ARTEMIS, he did an incredible job of shutting out all the noise and expectations surrounding a follow up to THE MARTIAN and just writing the book he wanted to write. From start to finish, he stuck like glue to his vision of the world and to the story he wanted to tell. The result is another novel that only Andy Weir could've written—and another great piece of science fiction." Major media outlets agree with Julian Pavia, offering high praise for ARTEMIS:
"An action-packed techno-thriller of the first order…the perfect vehicle for humans who want to escape, if only for a time, the severe gravity of planet earth. The pages fly by."   —USA Today
"Revitalizes the Lunar-colony scenario, with the author's characteristic blend of engineering know-how and survival suspense…Jazz is a great heroine, tough with a soft core, crooked with inner honesty."  —The Wall Street Journal
"Makes cutting-edge science sexy and relevant…Weir has created a realistic and fascinating future society, and every detail feels authentic and scientifically sound."      —Associated Press
"Weir plausibly depicts near-future colonization technology, and showcases the opportunists and laborers who eke out a living in this expensive, precarious habitat."        —The New York Times Book Review
"A breezy, propulsive read…Weir has set an action-adventure in space, where a resourceful protagonist improvises scientific solutions to escalating dangers."                 —NPR.org
Of note: Andy Weir was interviewed on
CBS This Morning
 aboard The Intrepid with Jeff Glor, and Weir talked about how he engineered a lunar city in ARTEMIS on 
Science Friday
.
Crown Executive Editor 
April 3, 2017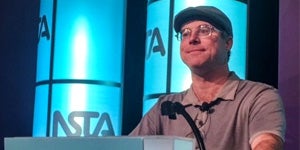 Nearly 10,000 science educators convened in Los Angeles last week for the annual National Science Teachers Association (NSTA) meeting. Penguin Random House was a corporate sponsor, with members of our Education Marketing team and Andy Weir, author of THE MARTIAN (Crown/Broadway), shining in the spotlight.  With the increasing need for
expand
educators to add more engaging, narrative non-fiction and fiction to their science classrooms, NSTA provided a great venue for Penguin Random House to market its relevant trade books to this unique and important audience.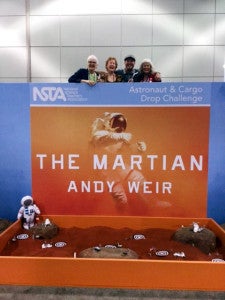 Andy Weir flew in Wednesday night for an exclusive dinner with the NSTA President, Executive Board members, and 15 VIP teachers as well as local librarians and bloggers, in a private dining room at Wolfgang Pucks.  He then delivered the Keynote address Thursday morning to a packed house of 5,000 NSTA attendees, discussing his journey to writing his mega bestseller THE MARTIAN (which was also adapted for a blockbuster movie), and the reasons why he worked with Crown to publish a special Classroom Edition of the book, which 
The New York Times
 covered in a major article (printed copies of which were distributed to attendees), Andy also made time for a marathon series of activities and interviews, including a segment on WebsEdge TV; a visit to THE MARTIAN Activity Center created by NSTA volunteers, where you drop markers on targets set on a Martian landscape; an appearance on the Buzz Aldrin Space Federation Destination: Mars map (where he received a free T-shirt!); a conversation for PBS NewsHour;  a two-hour, 300-copy book signing session; an interview with a reporter from the 
New York Observer
; ate a Turkey sandwich lunch; and, finally, was interviewed by the Space Games Federation crew, with #SpaceCat in tow (yes, #SpaceCat is a thing, check it out!).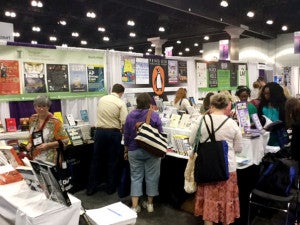 On the NSTA convention floor, our Education Marketing contingent, including Michael Gentile, Allan Spencer, Tim Cheng, Ryan Mita and Laura Berlinsky-Schine worked tirelessly  (as did Kaiulani Kaneta and Crown's Sarah Breivogel on their invaluable event planning efforts), with over 300 Penguin Random House titles displayed in three booths. Book categories ranged from Astronomy to Zoology, and everything in between.  On Friday morning, authors Jorge Cham and Daniel Whiteson signed advanced reader copies of their forthcoming book, 
WE HAVE NO IDEA: A Guide to the Unknown Universe
 (Riverhead). Other title priorities included: 
PATIENT H.M.: A Story of Memory, Madness and Family Secrets
 (Random House) by Luke Dittrich; 
LAB GIRL: A Story of Trees, Science and Love
 (Vintage) by Hope Jahren ("The highlight is word-of-mouth excitement for LAB GIRL," said Ms. Kaneta); 
SPACEMAN: An Astronaut's Unlikely Journey to Unlock the Secrets of the Universe
 (Crown Archetype) by Mike Massimino; and 
HEADSTRONG: 52 Women Who Changed Science and the World
 (Broadway) and 
TRAILBLAZERS: 33 Women in Science Who Changed the World
 (Delacorte Books for Young Readers), both by Rachel Swaby Penguin Random House will be exhibiting once again at next year's NSTA, to be held March 15 – 18, 2018 in Atlanta, GA