Authors
September 6, 2016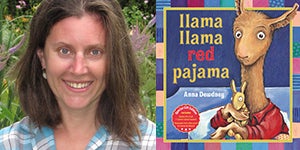 Penguin Young Readers joins the world in mourning the passing of Anna Dewdney, the author and illustrator of the beloved multi-million-copy bestselling Llama Llama children's book series. She died in her Vermont home on Saturday, September 3, 2016, after a fifteen-month battle with brain cancer. She was fifty.
expand
Dewdney's soothing tales are synonymous with calming early-childhood anxiety. She was praised by the 
Chicago Tribune
 as a "geographer extraordinaire of the emotional terrain of preschoolers and their mothers." Books in her 
Llama Llama 
series, which have almost ten-million-copies in print, include 
LLAMA LLAMA RED PAJAMA
,  
LLAMA LLAM,A HOLIDAY DRAMA
,  
LLAMA LLAMA MISSES MAMA
, and 
LLAMA LLAMA TIME TO SHARE
. LLAMA LLAMA RED PAJAMA was chosen as Jumpstart's Read for the Record book in 2011, setting the world benchmark for the most readings of a single book in one day.

Dewdney was also the author/illustrator of 
Nobunny's Perfect
 and 
NELLY GNU AND DADDY TOO
. She had just completed work on a new picture book, LITTLE EXCAVATOR
, 
scheduled for publication in June 2017 by Viking Children's Books, an imprint of Penguin Young Readers. Netflix is in production with an animated 
Llama Llama 
series, scheduled for release in 2017. Jen Loja, President, Penguin Young Readers said, "The entire Penguin Young Readers family is heartbroken.  And as we grieve, we also celebrate Anna's life, in dedicating ourselves to carrying forward her mission of putting books into as many little hands as possible.  We will miss her so, but consider ourselves so lucky to be her publishing family and her partner in her legacy." Ken Wright, Vice President and Publisher, Viking Children's Books commented, "Anna was an extraordinary talent. But much more than that, she was a dear, dear friend to so many of us at Viking and Penguin, and she will be deeply and personally missed by her entire Penguin family." Anna Dewdney was born in New York City on December 25, 1965. Before becoming a full-time author and illustrator, she worked as a rural mail carrier and taught at a boys' boarding school for many years. She lived with her family and three dogs in a restored home from 1820 on the site of an old stone mill, where she actively worked on the gardens. She was an outspoken advocate of literacy, and believed that the act of reading to a child fostered empathy and kindness in that child. In a 2013 article for 
The Wall Street Journal, 
she wrote, "When we read books with children, we share other worlds, and even more importantly, we share ourselves.  Reading with children makes an intimate, human connection that teaches that child what it means to be alive as one of many beings on the planet." In lieu of a funeral service, she asked that people read to a child instead. Anna Dewdney is survived by her partner Reed Duncan, and two grown daughters, Berol and Cordelia Dewdney.