Ayobami Adebayo
December 13, 2017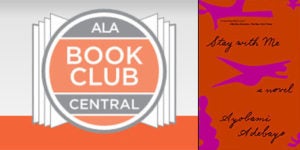 The latest American Library Association (ALA) Book Club Central SJP pick, chosen by Honorary Book Club Central Chair Sarah Jessica Parker, is STAY WITH ME by Ayobami Adebayo, published by Knopf.  Shortlisted for the 2017 Baileys Women's Prize for Fiction, and named a Notable Book by the New York Times, STAY WITH ME is Ms. Adebayo's debut novel. Set in Nigeria, this book gives voice to both husband and wife as they tell the story of their marriage – and the forces that threaten to tear it apart.  
expand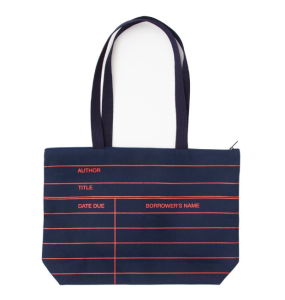 "Libraries have always been places of comfort and discovery for me, so I'm especially delighted that STAY WITH ME is Sarah Jessica Parker's pick for this American Library Association initiative," said Ms. Adebayo. "STAY WITH ME is a wise and deeply humane debut novel that unpeels the layers of politics in a marriage from the inside," says Ms. Parker. "Ayobami Adebayo tells the story of Akin, Yejide, and their families – a powerfully affecting tale of love, loyalty, and betrayal – with both savagery and heart. I can't wait for readers everywhere to read and enjoy this novel as our third selection for Book Club Central." In addition to being honorary chair of Book Club Central, Ms. Parker is an Honorary Lifetime Board Member of United for Libraries, a division of ALA, a role she is using to raise awareness about the integral role of Friends groups in the library.
 Ms. Parker's SJP Book Club is thrilled to announce a limited-edition tote bag to help support libraries, now available exclusively for the holiday season from Out of Print.  A portion of  the proceeds will be donated to United for Libraries.
Book Club Central (
www.bookclubcentral.org
), designed in consultation with expert librarians, provides the public with the very best in reading. Book Club Central debuted this past summer and since that time has become a place for engaging content and information for book clubs and readers everywhere. Ms. Parker's previous picks for Book Club Central have been
No One is Coming to Save Us
by Stephanie Powell Watts, and
EXIT WEST
by Mohsin Hamid. Ms. Parker recently launched
SJP for Hogarth
, which will selectively publish high-quality works of fiction by both established writers and distinctive emerging voice with critical and commercial promise.
SJP for Hogarth
's first acquisition is
A PLACE FOR US
, a debut novel by Fatima Mirza to be published in 2018. Ms. Parker is the star and executive producer of
Divorce,
which will return for a second season in January 2018.