bertelsmann
December 8, 2017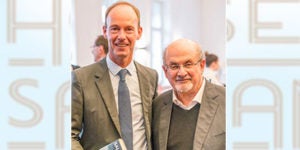 Thomas Rabe welcomed Salman Rushdie, one of Penguin Random House's most renowned authors, to Bertelsmann Unter den Linden 1 in Berlin last Friday, December 1.  Bertelsmann's Chairman and CEO hosted a private lunch to honor Mr. Rushdie, praising him as a defender of freedom of speech and a brilliant storyteller.  "We are grateful and proud to have served, for decades, as the publishing home to such an eminent author," said Mr. Rabe. 
expand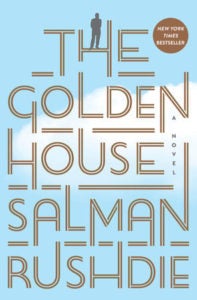 Mr. Rushdie was promoting his new novel
THE GOLDEN HOUSE
in Germany. The book, which paints a panorama of a deeply divided American society, was published in September by Penguin Random House in the U.S., Great Britain, and many other regions.  C. Bertelsmann published the book in German-speaking countries.  THE GOLDEN HOUSE is set against the backdrop of American culture and politics in the Obama years, and covers topics such as the rise of the Tea Party, the revolt against political correctness, and the triumph of an "ambitious and narcissistic man with dyed hair." Salman Rushdie, born in Bombay in 1947, has been published by Bertelsmann publishers since 1981, first in Britain, then in the U.S., and now worldwide. His twelve novels have won prestigious international awards, including the Booker Prize, and they have been translated into more than 40 languages.  He was knighted by Britain's Queen Elizabeth II in 2007.
December 4, 2017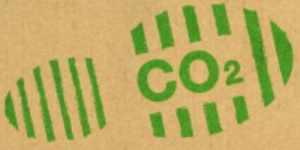 As part of our Igloo Climate Change series, we are presenting highlights from Bertelsmann's recently released Carbon Footprint 2016 Report that provides information on the development of relevant environmental indicators and climate emissions across our majority shareholder and its divisions. 
expand
In 2016, the Bertelsmann Carbon Footprint was Reduced by One Percent
This reduction corresponds to a decline of 5,300 tons, compared to the previous year. Bertelsmann's total footprint represents approximately 572,300 tons of CO2 equivalents (CO2eq). –. CO2eq is a measure of the emission of different greenhouse gases, weighted according to their impact on the climate. About half of the emissions are produced directly at Bertelsmann companies worldwide through the generation of heat and electricity and through the fuel consumed by company cars. The other half of the emissions are produced indirectly by utility companies or landlords, for the generation of electricity and district heating.  Apart from the Bertelsmann Printing Group, the biggest contributor to other indirect emissions are Penguin Random House's publishing businesses (20%) and Gruner + Jahr (12%).
12% Increase in Share of Paper from Sustainable Sources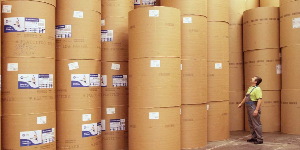 At Bertelsmann's printing and publishing businesses, paper will remain the most important natural resource for the foreseeable future.  As part of an ongoing effort to protect the environment and climate, it is all the more important than ever that paper used comes from sustainable forestry or recycling.  In 2016, the proportion of paper Bertelsmann companies purchased from sustainable sources rose significantly from 74 percent to 86 percent. Meanwhile, overall paper consumption was down slightly year-on-year by 10,000 tons (roughly one percent), to 1.85 million tons. Bertelsmann's annual paper consumption corresponds to a column of trucks loaded with rolls of paper that stretches more than 470 miles – roughly the distance from Hamburg to Munich. To complement its Paper Policy, Bertelsmann strives to increase the share of recycled paper and paper from certified sustainable forestry to more than 90 percent by 2020.  Among Penguin Random House's
2020 Social Responsibility Commitments
, our company will source 100 percent of the paper we use worldwide from a certified forest-management standard such as FSC, SFI, and/or PEFC.
"Be Green" Efforts Continue to Have Positive Impact on Resource Conservation and Waste Prevention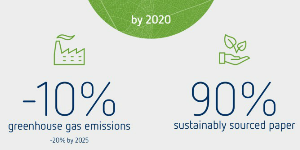 A total of 380 Bertelsmann companies at nearly 400 locations across all divisions around the world participated in the company's annual collection of environmental data. Numerous committed colleagues volunteered to support the recording of key figures on energy and paper consumption, water and waste. The worldwide environmental data collection is coordinated by "be green" experts at the divisions.  At the Group level, the environmental data from the companies and sites are combined and the sum of all greenhouse gas emissions is determined. The results of the Carbon Footprint report not only create transparency about impacts on the environment and climate, as well as on Bertelsmann's environmental performance, but also enables the management to derive measures for improvement. The sharing of knowledge and experiences in the Bertelsmann "be green" network, and cooperation in energy efficiency projects, continue to help reduce energy consumption and emissions, costs, and effort. Even in an increasingly digital media landscape, printed books, magazines, brochures and leaflets will continue to have their place, which is why, going forward, resource conservation and waste prevention will continue to play a major role at Bertelsmann across the paper value chain. To safeguard forests, which are valuable for climate protection and biodiversity, Bertelsmann advocates responsible paper procurement.  In their role as print service providers and paper buyers, Bertelsmann companies offer their customers an extensive range of sustainably certified and carbonneutral print products.
To read the complete Bertelsmann Carbon Footprint 2016 Report, click 
here
.
May 25, 2017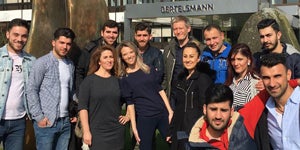 With its "BE Welcome" project, Bertelsmann is helping young refugees from Syria and Iraq get a fresh start in the German job market.  Aimed at refugees aged 18 to 25, with the aim of helping them develop career prospects, the program was launched at Bertelsmann's Gütersloh location with 11 participants in April
expand
of 2016 and all of them were on the road to employment by their farewell dinner last year.  With positive feedback from everyone involved, and the job placement successes, Bertelsmann colleagues decided to continue the project this year. [caption id="attachment_6377" align="alignright" width="240"]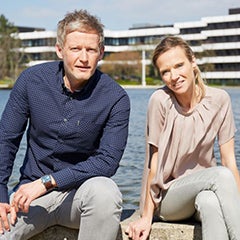 Andreas Majewski and Anna Terletzki[/caption] "We are pleased that we are not only able to continue the project, but also that we recruited more participants for 2017," says Anna Terletzki, a social worker and head of the project at Bertelsmann. "Thanks to the varied program, we hope to prepare them as well as possible for entering working life." Eleven men and four women between the ages of 19 and 26 are on board for BE Welcome 2017. Thirteen of the participants come from Syria, two from Iraq. They have lived in Germany for a year or two, and come from a variety of backgrounds. "As a socially responsible company, Bertelsmann takes responsibility for refugees, providing them with sustained, effective support in entering the German job market with 'BE Welcome'," says Immanuel Hermreck, Bertelsmann CHRO. "Having career prospects is a key contributor to successful integration." BE Welcome is designed to help refugees acquire key prerequisites needed to navigate through Germany's dual-training system. The top priority is to learn German.  The participants receive intensive language training over a 12-month period – daily for the first four months, then weekly. Another equally important element is the intensive socio-educational support they receive from the project team, which is again reinforced by the social pedagogue Andreas Majewski for this purpose. [caption id="attachment_6376" align="alignleft" width="240"]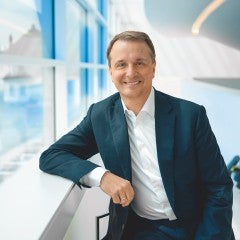 Immanuel Hermreck[/caption] For the refugees in the first "BE Welcome" group, participation definitely paid off.  Each of them has gained new prospects.  One has begun his entry qualification in the print department at Mohn Media; a second plans to start this in the summer. Two others are poised to become an auto mechanic and an electronics technician, respectively. Two participants have begun state-subsidized apprenticeships, one in retail, the other in warehouse logistics. One young man is going to school to become an assistant IT specialist, and a young woman is being trained as an early-childhood educator. One participant has been studying German as a foreign language since October, and another has begun his orientation studies in order to study International Business in the coming winter semester. "The first edition of the project exceeded our expectations," says the "BE Welcome" team. "We were especially impressed by the group's high level of solidarity and motivation. We are delighted that we were able to help the participants gain new prospects – and of course we will try to do so as best as possible again this year, with the second year."