books on tape
May 14, 2018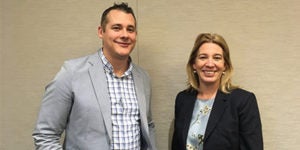 Penguin Random House Audio, voted the inaugural winner of the Audiobook Publisher of the Year prize at the 2018 London Book Fair International Excellence Awards, was front and center at last month's packed "Lunch & Learn" session featuring Amanda D'Acierno, Executive Vice President and Publisher, and Dan Zitt, Vice President of Content Production. Introduced by Penguin Publishing Group President Allison Dobson, Amanda and Dan shared insights into the world of audiobooks – a publishing category on an upward swing; the inner-workings of Penguin Random House Audio; and career highlights.
expand
Amanda is a longtime audiobook advocate, leading innovative efforts to spread the word about audio through regional and national awareness campaigns. Her audio career has spanned the Harry Potter series, audiobooks from three U.S. Presidents, and bestsellers by John Grisham, George R.R. Martin, Rick Riordan, and Paula Hawkins. Dan has spent his entire twenty one-year career in the audiobook industry. The creative catalyst for over 2,000 audio productions, he has collaborated with bestselling authors, notable celebrities, and award-winning narrators as well as former U.S. Presidents Bill Clinton and George W. Bush. Sixteen of his recordings have been nominated for Grammy Awards, with two of these recordings winning the award for Best Spoken Word Album. He is also the creator of Ahab.us, a casting website launched in 2015. Penguin Random House Audio includes four audiobook imprints: Random House Audio, Penguin Audio, Books on Tape, and Listening Library – the latter being the oldest audio imprint, founded in 1955. They released more than 1,300 audiobooks in 2017 and there are more than 12,500 audiobook catalog titles. Amanda noted that beyond Dan and herself, the Penguin Random House Audio leadership team features colleagues
Sue Daulton
, Vice President, Operations;
Heather Dalton
, Vice President, Marketing;
Amy Metsch
, Vice President, Associate Publisher; and
Katie Punia
, Vice President, Publicity. Looking at the global audiobook marketplace – from new frontiers to emerging and mature markets –Audible (Amazon) is the biggest digital audiobook distributor, with Google and Apple also having a big presence, along with Storytel (major streaming service in the Nordic countries), as well as Baker & Taylor, Overdrive, B&N's Nook, and Follett, among other companies. "Physical CD sales continue to be solid, but the audiobook growth story is digital," Amanda said. "Smart phones have sparked the rise of downloadable audiobooks, as has the popularity of podcasts and development of smart speakers. Nearly a third of Americans now have smart speakers. It has become a 'family device.' There are some families who gather around smart speakers to listen to audiobooks like people in the pre-television era used to huddle around console radios to listen to favorite programs."
Who listens to audiobooks? Amanda presented the demographics: 28%: ages 30 to 44; 24%: ages 18 to 29; 19%" ages 45 to 54; 15% ages 55 to 64; 14%: age 65 and older. "So more than half of audiobook listeners are under 45," she pointed out. Where do people listen to audiobooks? A national survey found: 32% listen while commuting; 34% at home; 17% while walking; 17% while cooking or doing arts & crafts. Delving inside the production of audiobooks, Dan revealed that "last year PRH Audio recorded 24,000 raw hours and 9,700 edited hours, at our 15 recording studios on both coasts. We have 13 audiobook producers and 8 pre/post production producers." "Before producing, we actually read the books," Dan said, "and we contact the authors to discuss production ideas, and talk about casting. If an author wants to read their own book, we try to make them aware of the commitment they will be making, both physically and in terms of their schedule. Bottom line, we want the author to be happy and we want to create the best possible listening experience for the consumer. We have a long list of exceptional voice talent, but we work closely with talent agencies to find new and appropriate talent. George Saunders' LINCOLN IN THE BARDO, with 166 different character voices, was such a unique production and a good example of one that showed how elaborate the casting of a book can be." Dan stressed, "Ensuring the quality of audiobooks is so important. If a consumer has one bad audiobook listening experience, they won't come back to the format. Before the audiobook master is finalized, we listen to every word with our quality control team. One wrong voice in one sentence can ruin it all. Regional accents must be authentic. A lot of research is done to make sure we get it right – even to the point of going to the region and getting samples from locals. We sometimes call local libraries to confirm pronunciations of towns, and things like that." While most audiobooks are direct readings of the print editions, some titles can be quite different. Dan shared an example of how comedian Tracy Morgan, rather simply read his book, took home a narrative outline, came back the next day, and told alternate stories in the studio based on themes and people covered in his book. "He created a unique, emotionally powerful listening experience," Dan said. For "further listening," Amanda and Dan recommended accessing PRH Audio audiobooks titles via the
Volumes
app and checking out
"This Is the Author" podcasts
, with more than 200 episodes offering behind-the-scenes insights into the audiobook recording process.
October 26, 2017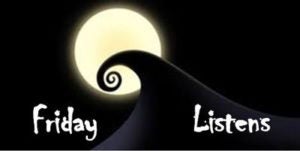 This is, indeed, Halloween.  Or near enough.  Any time is a good time for haunting, hair-raising books, but have you considered listening to one during this particularly spooky time of year?  From classics to modern day treasures, here are some picks to make your Halloween just a bit more bone chilling.
expand
THE BEST OF EDGAR ALLAN POE: (Listen here!)
A collection of 13 stories from one of the most influential American writers. Includes: 
The Tell-Tale Heart, The Cask of Amontillado,The Masque of the Red Death, The Raven, Annabel Lee, Facts in the Case of M. Valdemar, Ulalume, The Black Cat, The Bells, The Pit and the Pendulum, The Fall of the House of Usher, The Purloined Letter
, & 
The Gold Bug.
FRANKENSTEIN BY MARY SHELLEY:   (Listen here!) 
Frankenstein is a masterpiece of nineteenth-century Gothicism and the prototype of the twentieth-century science-fiction novel. It was conceived in the Swiss Alps in mid-June 1816 after a conversation about bringing corpses to life provoked a nightmare, and was written over the next eleven months in largely morbid circumstances. Death and the terrors of childbirth–as much as Romanticism, a burgeoning awareness of unconscious drives, and contemporary ideas of atheism, the collapse of the social contract, and the corrupting influence of society on human nature–inform this story of a man (or monster) built by Dr. Victor Frankenstein and brought to life by electricity.
THE HISTORIAN BY ELIZABETH KOSTOVA:  (Listen here!)
Late one night, exploring her father's library, a young woman finds an ancient book and a cache of yellowing letters. The letters are all addressed to "My dear and unfortunate successor," and they plunge her into a world she never dreamed of–a labyrinth where the secrets of her father's past and her mother's mysterious fate connect to an inconceivable evil hidden in the depths of history.The letters provide links to one of the darkest powers that humanity has ever known-and to a centuries-long quest to find the source of that darkness and wipe it out. It is a quest for the truth about Vlad the Impaler, the medieval ruler whose barbarous reign formed the basis of the legend of Dracula.
MALLON THE GURU & THE COLLECTED SHORT STORIES OF FREDDIE PROTHERO BY PETER STRAUB:  (Listen here!)
Peter Straub has spent forty years at the forefront of modern literary horror. This pair of stories represent his astonishing range and his ability to terrify, transport, and hold a reader hostage. Both stories crack the foundation of our reality and opens our eyes, taking us further and further into the darkness that normally remains deeply, and safely, hidden.
THE WORLD OF LORE:  MONSTROUS CREATURES BY AARON MAHNKE:  (Listen here!):
A beautifully illustrated collection of stories from the hit podcast Lore—now a streaming television series—that combines fan favorites like "Unboxed" and "They Made a Tonic" with new tales to deepen the legends.
WORLD WAR Z BY MAX BROOKS:  (Listen here!)
The Zombie War came unthinkably close to eradicating humanity. Max Brooks, driven by the urgency of preserving the acid-etched first-hand experiences of the survivors from those apocalyptic years, traveled across the United States of America and throughout the world, from decimated cities that once teemed with upwards of thirty million souls to the most remote and inhospitable areas of the planet. He recorded the testimony of men, women, and sometimes children who came face-to-face with the living, or at least the undead, hell of that dreadful time. 
World War Z
 is the result.
THERE'S SOMEONE INSIDE YOUR HOUSE BY STEPHANIE PERKINS:  (Listen here!)
It's been almost a year since Makani Young came to live with her grandmother in landlocked Nebraska, and she's still adjusting to her new life. And still haunted by her past in Hawaii. Then, one by one, the students of her small town high school begin to die in a series of gruesome murders, each with increasing and grotesque flair. As the terror grows closer and the hunt intensifies for the killer, Makani will be forced to confront her own dark secrets.
ROTTERS BY DANIEL KRAUS:  (Listen here!)
Grave-robbing. What kind of monster would do such a thing? It's true that Leonardo da Vinci did it, Shakespeare wrote about it, and the resurrection men of nineteenth-century Scotland practically made it an art. But none of this matters to Joey Crouch, a sixteen-year-old straight-A student living in Chicago with his single mom. For the most part, Joey's life is about playing the trumpet and avoiding the daily humiliations of high school.  Everything changes when Joey's mother dies in a tragic accident and he is sent to rural Iowa to live with the father he has never known, a strange, solitary man with unimaginable secrets. At first, Joey's father wants nothing to do with him, but once father and son come to terms with each other, Joey's life takes a turn both macabre and exhilarating. Need more spooky reads and listens?  
Visit the Edelweiss collection!
---
There's a Book for That! 
is brought to you by Penguin Random House's Sales department. Please follow our Tumblr by clicking 
here
—and share this link with your accounts: 
theresabookforthat.tumblr.com
. Thank you! Did you see something on the news or read about something on your commute? Perhaps you noticed something trending on Twitter? Did you think: "There's a book for that!"? Then please, send it our way at 
theresabookforthat@penguinrandomhouse.com