Chris Jackson
June 19, 2018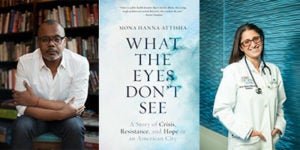 In WHAT THE EYES DON'T SEE: A Story of Crisis, Resistance and Hope in an American City (One World), Dr. Mona Hanna-Attisha shares her powerful first-hand account of how an Iraqi-American pediatrician used science to prove Flint, Michigan kids were exposed to lead. In riveting detail, she takes readers into the heart of the crisis and how she successfully stood up against the government that accused her of spreading hysteria. But this book is not only about environmental injustice, it is a story of hope. It is about how each of us – no matter who we are, where we are, or how we ended up in this country – has the power to fix and change things.
expand
Here
Chris Jackson
, Vice President, Publisher, Editor in Chief,
One World
, reveals how he first came in contact with Dr. Mona, the process of working with her to develop her story and experiences into book form, and ultimately publishing WHAT THE EYES DON'T SEE: "I met Mona Hanna-Attisha at the Ridenhour Prize ceremony at the National Press Club in Washington, DC, back in 2016. I was there to present an award to one of my authors, Jill Leovy, author of
GHETTOSIDE: A True Story of Murder in America
; Dr. Mona was there to receive the Ridenhour Truthteller Prize for her work in Flint, Michigan, where she was a key whistleblower in that city's devastating water crisis. Dr. Mona delivered a few remarks that day that moved me then and have stuck with me ever since. Mona spoke about whistleblowing being a 'choiceless choice' – that having seen what she saw, she had no choice but to risk her professional reputation and the wrath of her own state government to tell the truth she'd uncovered: that the state was poisoning its own children. She also generously dedicated most of her short talk to shining the spotlight on other heroes in Flint – activists, mothers, reporters, scientists – creating a portrait not of a singular, heroic savior, but of a community that came together to save itself. I approached her after her talk – wading through a crowd of other admirers – and asked her if she'd ever thought about writing a book. She took my card and six months later her proposal landed in my in-box.
"Working with Dr. Mona has been its own process of discovery. At our first meeting back in Washington, all I knew about her was she was a pediatrician and a whistleblower. But in some ways, Dr. Mona had been preparing for her role in the crisis for her entire life. She was the child of Iraqi immigrants who came to this country fleeing a tyrannical dictator who poisoned his own people and by the time the crisis in Flint hit, she was an established pediatrician, researcher, and educator who had oriented her practice toward social justice. The book as we initially conceived it, wove these strands together – the immigrant story, the story of her incredible work before and after the crisis at the Hurley Pediatric Center, and, of course, the thrilling core narrative: the crisis and the bold detective work and outspoken advocacy that forced the whole country to pay attention. But the sum of the book had to be more than those three pieces. "A great book always needs to elevate its story with a theme that gives it deeper meaning – in other words, Dr. Mona and I had to figure out what the bigger story was that she was trying to tell. We didn't just want a riveting, thrilling story of rule-breaking citizen activism; and we didn't just want to provide much-needed information about lead and water. We realized that we wanted readers to be changed by the book – to see in the incredibly important story of Flint an even bigger story. Flint wasn't just an anomalous event or even a tragedy. It was a deliberate government-abetted crime that reflected a twisted set of values. And we wanted the book to show how a different set of values–fighting for justice, respecting science, caring for the most vulnerable, especially children, and choosing truth over personal security or careerism—might point us toward a different way, with different outcomes. Dr. Mona and others have used the crisis as an opening for incredible, creative work in Flint, where they are building models for how communities can recover from histories of policy-driven violence and deprivation. We wanted the book to be a creative model in its way, too.
"Our goal was to get all of this into the book and I think Mona succeeded. The book is a thriller about a crisis – 'Grishamesque' is how
O Magazine
described it—but more than that, it's a book about the most urgent and timely challenges we're facing right now as a society. It's about how we must care for each other better. How we must tell the truth, even in the face of awful repercussions. And it's about how we – as citizens – don't have to wait for our politicians to get their acts together. We can fight for change where we stand, right now, because the stakes are too high to wait. "Dr. Mona will be appearing all over the media and traveling the country over the next weeks and months talking about her book and these deeper ideas. And just as Flint discovered in the water crisis, I think the country at large will find that our present crisis has met its ideal advocate: the daughter of immigrants, a driven scientist and caregiver, a passionate defender of children, and a powerful, fearless truthteller."
See and hear Dr. Mona talk about

WHAT THE EYES DON'T SEE

in conversation with Chelsea Clinton tonight at Barnes & Noble Union Square in NYC beginning at 7:00 p.m. The event is free and open to the public.