Creative Writing Awards
June 16, 2017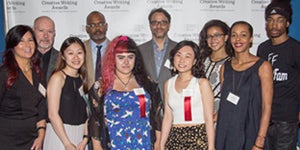 Penguin Random House continued its long-held tradition of recognizing and rewarding talented New York City public high school students at our annual Creative Writing Awards (CWA), held Tuesday night, June 13, at Manhattan's Symphony Space.  Since 1994, more than two million dollars have been
expand
awarded to students and their schools by Random House, and now Penguin Random House, through this awards competition.  This year, $115,000 in scholarships went to 62 NYC public high school seniors for their winning original poetry/spoken word, memoir, fiction and graphic-novel compositions. In a welcoming program note to all CWA attendees, our CEO 
Markus Dohle
, said, in part, "At Penguin Random House, we are deeply committed to creating the next generation of writers and readers around the world. This commitment drives everything we do — from the books we promote and publish, to the programs we fund and support — and is personified no more proudly than in our Creative Writing Program. Through programs and partnerships focused on advancing a diversity of voices and ideas, promoting literacy and education, providing access to books, and championing creativity, we proudly believe in the power of books to connect and change lives." [caption id="attachment_6700" align="alignright" width="225"]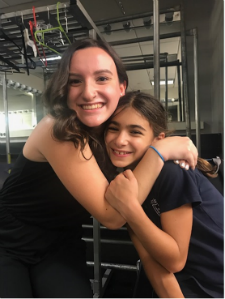 Julia Catalano with Alex Rose[/caption] Read the complete note from Markus 
here
. In this twenty-fourth year for the competition, more than 1,100 entries were received from a diverse number of public high schools throughout NYC's five boroughs. The awards presentation, hosted and organized by our Director of Corporate Giving, 
Melanie Fallon-Houska,
included dramatic readings, spoken-word poetry, and graphic-novel presentations from a selection of winners, including this year's newest $10,000 scholarship recipient of the *Maya Angelou Scholarship Award for Spoken Word Poetry. Here are the 2017 first-place winners:
Christy Deng
, Memoir, Edward R. Murrow High School
Madison Aubey
, Poetry, Hunter College High School
Sophia Zhao
, Fiction & Drama, Bronx High School of Science
Julissa Salas
, Graphic Novel, Hostos Lincoln Academy
*Quameek English
, Spoken Word Poetry, Brooklyn Generation School. [caption id="attachment_6699" align="alignright" width="199"]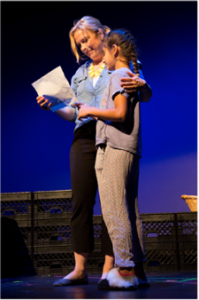 Camille Dewing with Alex Rose[/caption] While most students read or performed their owning winning pieces, several of the young writers opted to watch their pieces come to life via staged readings.  Random House Senior Copy Manager 
Camille Dewing-Vallejo
 and student 
Alex Rose
 (daughter of 
Doris Cooper,
Clarkson Potter VP & Associate Publisher) played the mother/daughter roles in Julia Catalano's winning poetry scene.  About this experience, Camille said, "It's really important to support and nurture young writers like Julia and all the CWA recipients. They're pouring everything they've got into these pieces, so it's a great responsibility and honor for me to help Julia bring her words and vision to the stage. And not only is Alex Rose smart and adorable, she was a terrific scene partner and consummate pro!" Penguin Random House Digital Producer 
Nick Martorelli 
handled the "God Mic" responsibilities during the evening's production, and said, "I'm proud to work for a company that offers these awards, as creative expression can be one of the most overlooked facets of education. I love volunteering, and I love seeing how excited the students are both to be recognized for their achievements, and to support their friends." The award-winning high school seniors and their families, along with teachers and publishing industry guests, were also joined by 
Chris Jackson,
Publisher and Editor-in-Chief, One World; Lisa Lucas, Executive Director, National Book Foundation; David Kushner,author, 
Rolling Stone 
contributing editor; and Richard Hoehler, OOBR award-winning actor and author/playwright. This year's judges included Penguin Young Readers Executive Editor Rob Valois; Villard Books author Janice Erlbaum; Haley Davis, Associate Manager, Diversified Sales, Penguin Random House; Sean Geary, National Accounts Manager/Club Channel, Penguin Random House; Lauren Helms, Team Coordinator, DK; Rob Holden, Associate Sales, Penguin Random House; Megha Jain, eBook Production Editor, Berkley; Deanna Masselli, Lead Analyst, Technical Administration, Penguin Random House; Areva Ragle, Senior Production Designer, DK;  Natalie Riera, Senior Manager, Digital Workflow, Penguin Random House; Samantha Seerman, eBook Production Manager, Knopf & Crown; and Phillip Stamper,  Manager, Publishing Development & Author Platforms, Penguin Random House. For more details on the Penguin Random House Creative Writing Awards, and a full list of winners, click 
here
.