Del Rey
February 26, 2018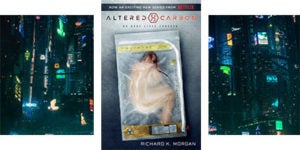 The cinematic scope of Richard K. Morgan's genre-bending science fiction book, ALTERED CARBON (Del Rey), made it a natural for screen adaptation.  Now streaming exclusively on Netflix, this ten-episode series takes place more than 350 years into the future, when humankind has spread throughout the galaxy, monitored by the watchful eye of the U.N.  While divisions in race, religion, and class still exist, advances in technology have redefined life itself. Now, assuming one can afford the expensive procedure, a person's consciousness can be stored in a cortical stack at the base of the brain and easily downloaded into a new body (or "sleeve") making death nothing more than a minor blip on a screen.  
expand
Brought back to life after 250 years by Laurens Bancroft (James Purefoy), the richest man on Earth, ex-Envoy soldier Takeshi Kovacs (Joel Kinnaman / Will Yun Lee) must solve Bancroft's attempted murder for the chance to live again in a world he doesn't recognize. In 2003, ALTERED CARBON won the Philip K. Dick Award, was a
New York Times
notable book, and made that year's Best lists for
The New York Times, Library Journal,
and
Locus Magazine,
among others. There are also two more books in the series that take place after ALTERED CARBON:
BROKEN ANGELS
and
WOKEN FURIES
. Morgan's next standalone novel, THIN AIR, will be released on July 31. Watch the ALTERED CARBON Netflix series trailer: https://www.youtube.com/watch?v=dhFM8akm9a4
December 15, 2017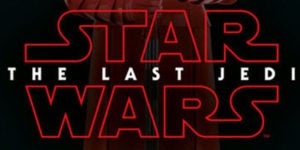 The legion of Star Wars fans can rejoice. Not only does The Last Jedi movie premiere, at last, this weekend, but our DK Publishing and Ballantine/Del Rey/Lucas Books imprints are releasing a raft of new specially created tie-in books with Lucasfilm Ltd. to enjoy before and long after their attendance.  
expand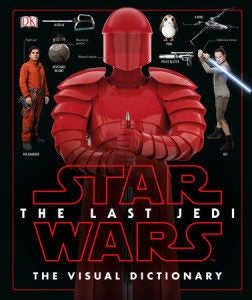 STAR WARS: The Last Jedi: The Visual Dictionary  by Pablo Hidalgo (DK, 12/15)
This definitive guide to
Star Wars: The Last Jedi
introduces the characters, creatures, droids, locations, and technology from the new film. Packed with 100+ images and information as penned by Star Wars scribe Pablo Hidalgo, who helps ensure consistency across a wide array of Star Wars projects, it's a must-have for all fans who want to go beyond the movie experience. Pablo has written several DK titles, including STAR WARS: Rogue One: The Ultimate Guide.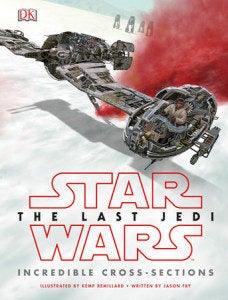 STAR WARS: The Last Jedi: Incredible Cross-Sections by Jason Fry, illustrated by Kemp Remillard (DK, 12/15)
STAR WARS: The Last Jedi: Incredible Cross-Sections goes inside—literally—to show the inner workings of 13 vehicles from the movie. Each vehicle is illustrated in full-color by famed artist Kemp Remillard, complete with callouts by author Jason Fry to all the pertinent features of each ship. Accompanying comprehensive text make this one of the best reference guides for the new craft in the Star Wars galaxy.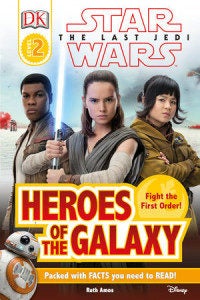 K Reader L2: STAR WARS: The Last Jedi: Heroes of the Galaxy  by Ruth Amos (DK, 12/15)
DK Reader L2: STAR WARS: The Last Jedi: Heroes of the Galaxy is a 48-page reader penned by DK Editor Ruth Amos, aimed at helping every child progress and become a confident reader. The story narrative is supported with interactive genre spreads and questions to encourage children to access information from a range of sources and develop comprehension skills.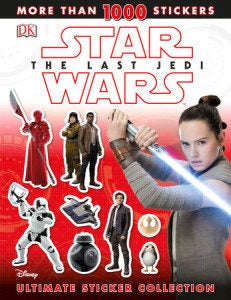 STAR WARS: The Last Jedi: Ultimate Sticker Collection  by David Fentiman (DK, 12/15)
The weird, wonderful, exciting world of STAR WARS: The Last Jedi comes alive with this Star Wars: The Last Jedi: Ultimate Sticker Collection. Featuring more than 1,000 stickers of new characters, creatures, aliens, droids, and ships, as well as free-stick pages to create new scenes, this Ultimate Sticker Collection will keep fans entertained for hours.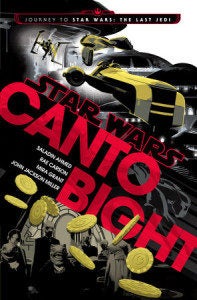 STAR WARS: CANTO BIGHT – Journey to Star Wars: The Last Jedi by Saladin Ahmed, Rae Carson, Mira Grant and John Jackson Miller (Del Rey, 12/5)
Soon to be seen in 
Star Wars: The Last Jedi,
welcome to the casino city of Canto Bight. A place where exotic aliens, captivating creatures, and other would-be high rollers are willing to risk everything to make their fortunes. Set across one fateful evening, these four interconnected stories explore the deception and danger of the lavish casino city.  In Canto Bight, one is free to revel in excess, untouched from the problems of a galaxy once again descending into chaos and war. Dreams can become reality, but the stakes have never been higher—for there is a darkness obscured by all the glamour and luxury.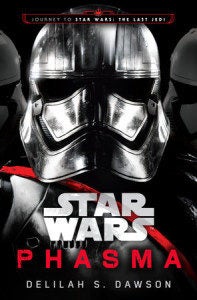 STAR WARS: PHASMA – Journey to Star Wars: The Last Jedi  by Delilah S. Dawson (Del Rey, 9/1)
Discover Captain Phasma's mysterious history in this "Journey to Star Wars: The Last Jedi" novel. One of the most cunning and merciless officers of the First Order, Captain Phasma commands the favor of her superiors, the respect of her peers, and the terror of her enemies. But for all her renown, Phasma remains as virtually unknown as the impassive expression on her gleaming chrome helmet. Now, an adversary is bent on unearthing her mysterious origins—and exposing a secret she guards as zealously and ruthlessly as she serves her masters.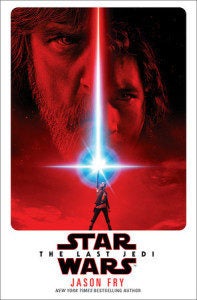 STAR WARS: The Last Jedi by Jason Fry (Del Rey, to be published 3/6/18)
Rey continues her epic journey with Finn, Poe, and Luke Skywalker in this exclusive novelization of the new film, 
STAR WARS: The Last Jedi.
MAY THE FORCE BE WITH OUR STAR WARS AUTHORS AND PUBLISHERS.
June 13, 2017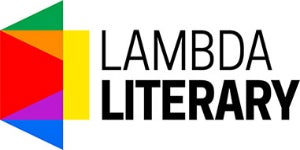 Lambda Literary, the nation's leading organization advancing lesbian, gay, bisexual, and transgender (LGBT) literature, has announced the winners of its 29th Annual Lambda Literary Awards (the "Lammys"), with Penguin Random House authors receiving four awards, including the Visionary Award, a
expand
lifetime achievement honor presented to Jacqueline Woodson.  The ceremony, bringing together authors, publishers and sponsors to celebrate excellence in LGBT literature, took place Monday night, June 12, at NYU's Skirball Center for the Performing Arts. Here are our 2017 Lammy Award winners in the following categories:
LGBT Nonfiction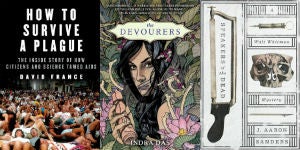 HOW TO SURVIVE A PLAGUE: 
The Inside 
Story of How 
Citizens and Science Tamed AIDS
 by David France, (Alfred A. Knopf)
LGBT Science Fiction / Fantasy/ Horror
THE DEVOURERS
 by Indra Das (Del Rey)
Gay Mystery
SPEAKERS OF THE DEAD: A Walt Whitman 
Mystery
 by J. Aaron Sanders (Plume)
Visionary Award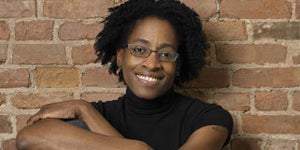 Jacqueline Woodson, author of such acclaimed books as the National Book Award-winning 
BROWN GIRL DREAMING
 (Nancy Paulsen Books/Puffin), received the Visionary Award for "breaking new ground in the field of LGBT literature." Tony Award-winning actress Cynthia Nixon introduced Woodson as a "writer who is part of the institution but stands outside it and critiques." Congratulations to our award-winning authors, editors and publishers. View the complete list of 2017 Lambda Literary Awards winners 
here
.