Dr. Seuss
May 31, 2018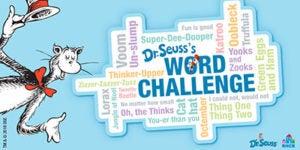 In celebration of the newly published DR. SEUSS'S 100 FIRST WORDS, Random House Children's Books (RHCB) and Dr. Seuss Enterprises (DSE) launched the first-ever Dr. Seuss's Word Challenge (#SeussWordChallenge) on May 29. With a goal of reading 20 million Dr. Seuss words nationwide, consumers can enter the challenge via Seussville.com and track their progress through July 31.
expand
Participants will have the opportunity to join Word-A-Thon events at local bookstores, complete with reading activities, and enter to win prizes on Seussville.com. Scripps National Spelling Bee and Carnival Cruise Lines are partnering with RHCB and DSE to support the challenge and track words this summer.
The Scripps National Spelling Bee is promoting the Word Challenge at the annual national competition held outside Washington, D.C., happening this year May 27–June 1. Events will include a Word-A-Thon, a Dr. Seuss–themed spelling bee to be streamed live on the Bee's Facebook page, as well as fun activities and special appearances by the Cat in the Hat at the Dr. Seuss Bus that will be on-site. Carnival Cruise Lines is challenging consumers to read the most Dr. Seuss words at sea beginning in early June. Carnival will host two large-scale events promoting the challenge on board, one in June and one in July, and will track the words read on board by guests, adding them to the word widget on Seussville.com. "Teaching children that reading could be fun was a lifelong goal of Ted's," says Susan Brandt, President of Dr. Seuss Enterprises. "It's fitting that this program is taking the form of a challenge, as it was a challenge that inspired him to write The Cat in the Hat! We are so pleased to offer a program that encourages reading in a fun way, while also helping to prevent the summer reading slide." Penguin Random House employees are not eligible to enter Dr. Seuss's Word Challenge Sweepstakes, but if you would like to support the challenge and spread the word, please share the #SeussWordChallenge on social media. As a reminder, if you are posting to a personal or other non-PRH account you must include the hashtag #TeamPRH.
March 2, 2018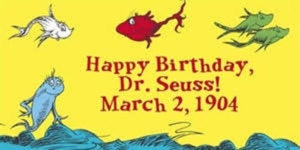 Today you are you! That is truer than true! There is no one alive who is you-er than you!
– Dr. Seuss
Is there a wocket in your pocket? Did you have green eggs and ham this morning? Today, March 2nd, is Dr. Seuss' birthday – celebrated nationwide with NEA's Read Across America events in schools, libraries and bookstores. Read Across America is an annual reading motivation and awareness program that calls for every child in every community to celebrate reading on the birthday of the beloved children's author. Here's a treasure-trove of Seuss for the party!
expand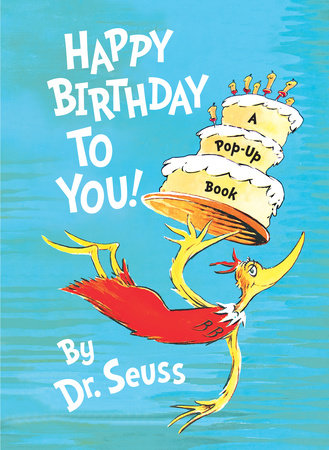 HAPPY BIRTHDAY TO YOU
Bigger than New Year's, the Fourth of July, and Halloween all rolled into one, birthdays are for celebrating with Dr. Seuss in his first all-color picture book, Happy Birthday to You! Fly with the Great Birthday Bird in this fantastical commemoration of YOU! And make the most of your special day, which only comes once a year!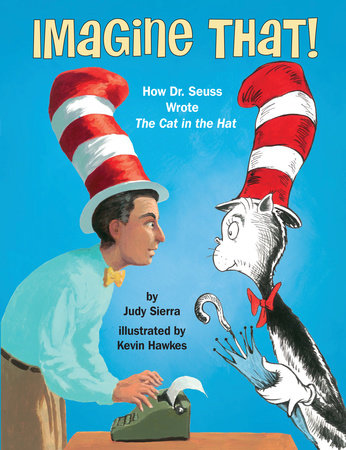 IMAGINE THAT
by Judy Serra; illustrated by Kevin Hawkes A lively new picture-book biography of the most beloved children's book author of all time: Dr. Seuss!
Have you ever wondered how the great Dr. Seuss wrote his most famous book? Did you know that for 
The Cat in the Hat,
 he wasn't allowed to make up the fun words he was known for—like OOBLECK and IT-KUTCH and HIPPO-NO-HUNGUS? He was only allowed to use words from a very strict list! This bouncy account of the early career of Dr. Seuss (a.k.a. Ted Geisel) proves that sometimes limitations can be the best inspiration of all.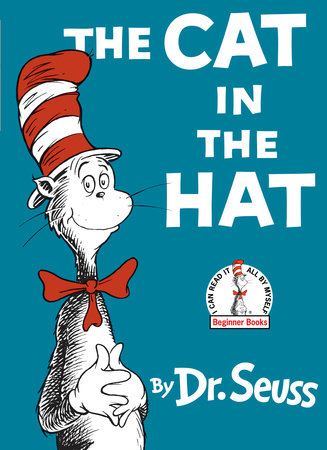 THE CAT IN THE HAT
Cat fanciers rejoice! Available for the first time is a picture book-size, jacketed edition of The Cat in the Hat by Dr. Seuss—the classic, deliciously anarchic story of a giant cat in a hat whose unexpected arrival turns a dull, rainy day into a madcap adventure. Although written for beginning readers
, The Cat in the Hat 
makes an ideal read-aloud for children of all ages. Highly collectible, it's a purr-fect gift for Seuss fans of all ages!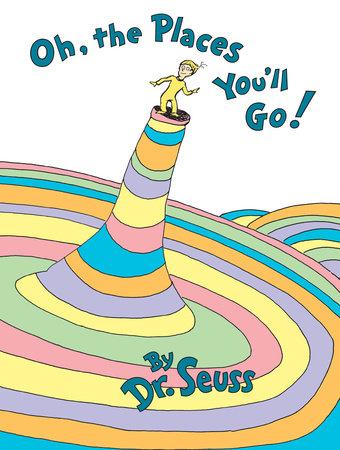 OH, THE PLACES YOU'LL GO!
From soaring to high heights and seeing great sights to being left in a Lurch on a prickle-ly perch, Dr. Seuss addresses life's ups and downs with his trademark humorous verse and illustrations, while encouraging readers to find the success that lies within.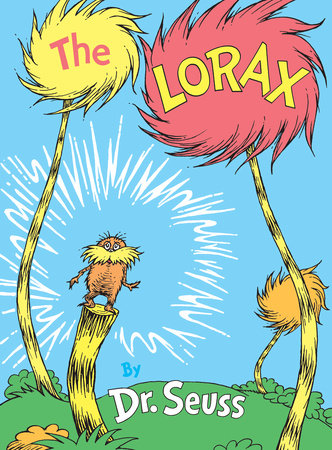 THE LORAX
Long before "going green" was mainstream, Dr. Seuss's Lorax spoke for the trees and warned of the dangers of disrespecting the environment. In this cautionary rhyming tale (printed on recycled paper) we learn of the Once-ler, who came across a valley of Truffula Trees and Brown Bar-ba-loots, and how his harvesting of the tufted trees changed the landscape forever.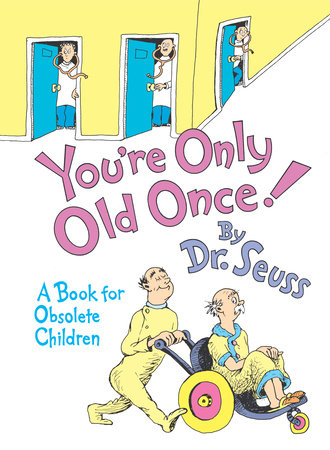 YOU'RE ONLY OLD ONCE!: A BOOK FOR OBSOLETE CHILDREN: 30TH ANNIVERSARY EDITION
With his unmistakable rhymes and signature illustration style, Dr. Seuss creates a classic picture-book ode to aging in You're Only Old Once! On a visit to "the Golden Years Clinic on Century Square for Spleen Readjustment and Muffler Repair," readers will laugh with familiar horror at the poking and prodding and testing and ogling that go hand in hand with the dreaded appellation of "senior citizen." Though Dr. Seuss is known for his peerless work in books for children, this comical look at what it's like to get older is ideal for Seuss fans of advanced years.
THE SEUSS, THE WHOLE SEUSS AND NOTHING BUT THE SEUSS: A VISUAL BIOGRAPHY OF THEODOR SEUSS GEISEL
by Charles Cohen; Ages 8 to 12 Theodor Seuss Geisel, creator of Horton the Elephant, the Grinch, the Cat in the Hat, and a madcap menagerie of the best-loved children's characters of all time, stands alone as the preeminent figure of children's literature. But Geisel was a private man who was happier at the drawing table than he was across from any reporter or would-be biographer. Under the thoughtful scrutiny of Charles D. Cohen, Geisel's lesser known works yield valuable insights into the imaginative and creative processes of one of the 20th century's most original thinkers.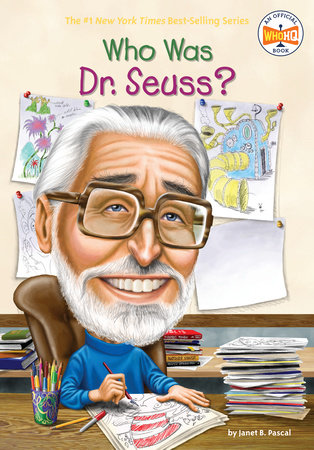 WHO WAS DR. SEUSS?
 By Janet Pascal, Nancy Harrison; Ages 8 to 12 Ted Geisel loved to doodle from the time he was a kid. He had an offbeat, fun-loving personality. He often threw dinner parties where guests wore outrageous hats! And he donned quirky hats when thinking up ideas for books- like his classic 
The Cat in the Hat
. This biography, with black-and-white illustrations throughout, brings an amazingly gifted author/illustrator to life.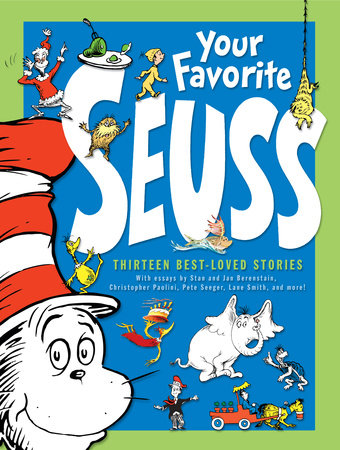 YOUR FAVORITE SEUSS
From his very first book to his very last book, here in one big volume are 13 classic Dr. Seuss stories, everyone's favorites. All of the words and virtually all of the illustrations are included. Each story is prefaced by a short essay by someone whose life was changed by Dr. Seuss or who is simply an unabashed admirer. Also included are photographs of Dr. Seuss, memorabilia, and original sketches from his books. The stories included are: And to 
Think That I Saw It on Mulberry Street
, 
Horton Hears a Who!
, 
McElligot's Pool
, 
If I Ran the Zoo
, 
Happy Birthday to You!
, 
Dr. Seuss's Sleep Book
, 
Yertle the Turtle
, 
The Cat in the Hat
, 
How the Grinch Stole Christmas!
, 
Green Eggs and Ham
, 
The Lorax
, 
The
Sneetches
, and 
Oh, the Places You'll Go!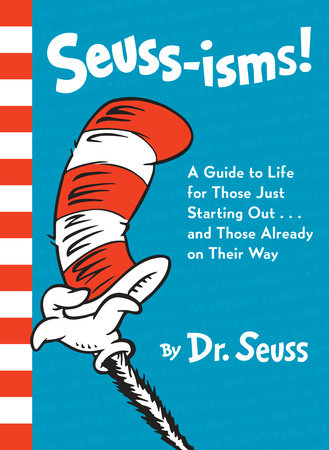 SEUSS-ISMS! A GUIDE TO LIFE FOR THOSE JUST STARTING OUT…AND THOSE ALREADY ON THEIR WAY
The one and only Dr. Seuss dispenses invaluable advice about life in this collection of his most memorable quotes. With over sixty pages of cherished Seuss art and quotes from such classics as The Cat in the Hat, Horton Hatches the Egg, Green Eggs and Ham, How the Grinch Stole Christmas!, Oh, the Places You'll Go!, and many more, this humorous and inspiring collection is, indeed, perfect for those just starting out…or those who are already on their way! For more on these and other Seuss titles visit the collection: 
Dr. Seuss Read Across America
Visit the fabulous
http://www.seussville.com/
for activities, videos and everything Seuss!
---
There's a Book for That! 
is brought to you by Penguin Random House's Sales department. Please follow our Tumblr by clicking 
here
—and share this link with your accounts: 
theresabookforthat.tumblr.com
. Thank you! Did you see something on the news or read about something on your commute? Perhaps you noticed something trending on Twitter? Did you think: "There's a book for that!"? Then please, send it our way at 
theresabookforthat@penguinrandomhouse.com
July 26, 2016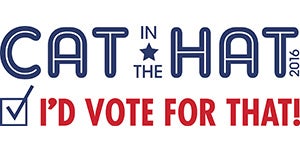 Dr. Seuss's beloved character the Cat in the Hat has declared his candidacy for president of the United States in the 2016 election, as the one and only Kids' Candidate, with Thing 1 and Thing 2 as his running mates, it was jointly announced by Dr. Seuss Enterprises and Random House Children's Books. A special campaign rally is taking place July 26th on the steps of the childhood home of Theodor Geisel (aka Dr. Seuss) in Springfield, MA, at 74 Fairfield Street. Watch the Cat in the Hat's official campaign video:
expand
During his presidential run, the Cat in the Hat will represent all that Dr. Seuss believed about children—that they have the intellect, imagination, and power to impact our world positively, while also having fun. The announcement of the Cat in the Hat for President campaign arrives with the release of a new book in The Cat in the Hat Learning Library, 
ONE VOTE, TWO VOTES, I VOTE, YOU VOTE
, on sale Tuesday (7/26) from Random House Books for Young Readers. In the latest addition to this collection of nonfiction books for beginning readers, the Cat in the Hat uses simple rhyme to introduce early readers to the concept and practice of voting, with a focus on the American presidency. Readers learn the basic principles of democracy, how political parties are made, why Election Day is held in early November, and much, much more.
Choose a Cause and Cast Your Vote Beginning July 26!
As the Kids' Candidate, the Cat in the Hat will show kids that every vote counts, and every voice matters! Votes can be cast for the Cat in the Hat to work with one of his supporters and their selected cause. Each cause is linked to a related organization, and together Random House Children's Books and Dr. Seuss Enterprises will make a $10,000 donation to the winning charity. Children can cast their vote for their preferred cause online by visiting 
CatInHat4Prez.com
. Voting will run from July 26 through November 8, 2016, and the winning charity will be announced on December 1, 2016. The ballot includes the opportunity for kids to:
Vote for Reading and Education to support First Book, with Dick and Sally from THE CAT IN THE HAT!
Vote for Ocean Conservation to support Oceana, with Red Fish and Blue Fish from ONE FISH TWO FISH RED FISH BLUE FISH!
Vote for Fighting Hunger to support Feed the Children, with Sam-I-Am! From GREEN EGGS AND HAM!
Vote for Kindness for All to support Pacer, with Horton from HORTON HEARS A WHO!
"Just as the Cat introduced children to the joy of reading—opening up for them a world of ideas—he is now introducing children to the concept of voting in a way that is both informative and fun, in ONE VOTE, TWO VOTES, I VOTE, YOU VOTE—and I know Dr. Seuss would be pleased to see children working with the Cat and his other characters to make positive changes in their world," says Cathy Goldsmith, President & Publisher of Random House's Beginner Books line and Dr. Seuss publishing program. For more information and to cast your vote, visit 
CatInHat4Prez.com
.