ezra jack keats
September 27, 2017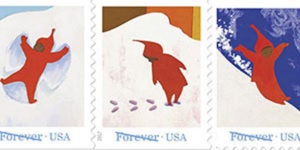 The United States Postal Service is featuring scenes from the beloved classic children's book, THE SNOWY DAY, on their "forever" stamps. The stamps depict Peter, the main character of Ezra Jack Keats' famous, award-winning Viking Books for Young Readers title, and will be dedicated at a free ceremony open to the public on October 4 at the Brooklyn Public Library in New York. 
expand
THE SNOWY DAY was one of the first prominent 20th-century picture books centered on an African-American child, and went on to win the Caldecott Medal in 1963. There will be four stamps based on the book, and each will feature Peter in his red snowsuit. Antonio Alcala was the art director for the project, and designed the stamps with Keat's iconic illustrations in mind, including images of Peter forming a snowball, Peter sliding down a mountain of snow, Peter making a snow angel, and Peter leaving footprints in the snow. [caption id="attachment_7942" align="alignright" width="235"]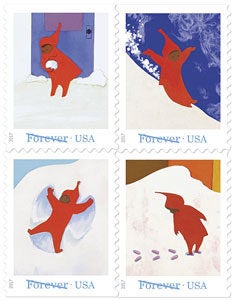 Credit: United States Postal Service[/caption] Originally published by Viking Books for Young Readers in 1962,  THE SNOWY DAY is about a young boy who wakes up one morning and looks out his window to see everything covered in snow. An adventure-filled snow day ensues! There are currently more than 6 million copies of THE SNOWY DAY in print in North America. The "Snowy Day" stamps are being pre-sold at the
USPS website.
 Please feel free to attend the Snowy Day Forever Stamps First Day of Issue Dedication Ceremony at the BPL's Central Library in the Dweck Auditorium on October 4, from 10:30 a.m. to 1:30 p. m.  For more information,  click 
here.