#GivingTuesday
November 29, 2016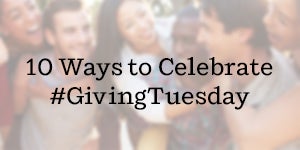 To celebrate #GivingTuesday, we've pulled together some of our favorite ways to give back and support books and reading this holiday season. Keep reading to learn how you can give the gift of reading, literacy and education in your hometown and across the globe.
expand
1.     #GiveABook and Change a Life
This holiday season, 
Penguin Random House
 is giving you 5 books in your honor to donate to your community through our third annual #GiveaBook holiday campaign. With your help, we have donated more than 85,000 books to children in need across the country through #Giveabook since its inception in 2014. This year, we're donating an additional 50,000 books to children nationwide through First Book. 
Click here
 to claim 5 of these 50,000 books for your local students and teachers today.
2.     Help Young Readers Get Ahead with Read Ahead
Read Ahead
 ignites a love of reading in young students in New York City through mentoring, improving their confidence as well as their odds for success in school and life. Help nourish a passion for reading early in life by making a 
one-time
 or recurring contribution through their 
Page Turners program
.
3.     Share a Bedtime Story with Worldreader
Reading to kids throughout their childhoods has a lasting and powerful impact on their future. This holiday season, join 
Worldreader
, the innovative nonprofit that uses technology to bring digital books to every child and their family, to help give the gift of a bedtime story to kids around the globe. 
Watch how Penguin Random House Author Ambassador Tad Hills
 is spreading the joy of books and reading around the world. 
Make a donation
 of any size and your contribution will go towards making a collection of ebooks free, so that families around the world can read to their children.
4.     Buy One, Give One with Penguin Random House and Zulily
This year, get your holiday shopping done on 
zulily
 and help children in need across the country. Beginning on #CyberMonday on November 28 and throughout the holiday season Penguin Random House will donate one book for every Penguin Random House book sold on zulily. Look for the special Buy One, Give One badge for qualifying items and 
give the gift of reading to kids in need across the country
.
5.     Give a Gift of Joy with Save the Children
Browse Save the Children's 
Gifts of Joy Catalog
 to find your perfect #GivingTuesday gift. Choose to 
educate a girl
 for just $75 and you'll give the gift of books, resources, and access to an education. For less than 20 cents a day, you can change a girl's life forever.
6.     Help to Defend Freedom of Expression with PEN America
PEN America
 stands at the intersection of literature and human rights to protect open expression in the US and worldwide. Support PEN America and their efforts to champion the freedom to write and to celebrate creative expression and defend the liberties that make it possible. Join Penguin Random House in 
supporting PEN America
 and 
become a member today
.
7.     Support the Literary Community with Poets and Writers
Poets and Writers
 is the nation's largest nonprofit organization serving creative writers. By subscribing to the Poets and Writers magazine and 
becoming a member
 at any level, you can help the non-profit with their mission to foster the professional development of poets and writers, promote communication throughout the literary community, and help create an environment in which the widest possible public can appreciate literature.
8.     Support UJA and Help People in need.
Contribute to the 
UJA Federation of New York
 today and your support will have a global effect. Each year, UJA's work touches 4.5 million people in more than 70 countries through a network of more than 100 charitable organizations. 
Donate today
 and visit their new volunteer website, 
www.timeforgood.org
, to find meaningful volunteer projects around New York City in the five boroughs, Westchester and LI.
9.     Put Girls First and Donate to the Malala Fund
Join 
Malala Yousafzai's #YesAllGirls 
movement and make a donation to support education programs for girls around the world. In her words, "One child, one teacher, one book, and one pen can change the world." Help make it happen.
10.     Support Jumpstart and Make a Difference
Because every child deserves a jump start, 
donate now
 and your gift will support 
Jumpstart
's early education program, providing children who are at risk of failing school with the support they need to be successful in preschool and ready for life.
Celebrate #GivingTuesday by sharing this story on social media.