Hannah Telfer
March 13, 2019
Penguin Random House's audiobook business is an essential pillar of our global growth strategy for 2019 and beyond. Read on for an interview with Hannah Telfer who oversees Audio at Penguin Random House UK. 
Q: Congratulations on your recent Audie Award for THE HITCHHIKER'S GUIDE TO THE GALAXY: Hexagonal Phase by Eoin Colfer & Douglas Adams. 
The digital audio growth is expanding our authors' reach by attracting new consumers. What does the demographic for audiobooks look like in the UK?
A: Audiobooks have played a critical role in reaching audiences we traditionally find harder to reach with our books – younger men.  This remains the case with the single biggest group of purchasers of audiobooks in the UK, men aged 25-34.  However, as audiobooks become more mainstream, we are starting to see the audience evolve with the biggest increase in listeners coming from women aged 35 – 44 and, for the first time, the majority of audiobooks being purchased by those aged over 35.  As we look to grow the overall market for books, we'll remain focused on reaching audiences who are not heavy book-buyers and find creative ways to persuade them to convert some of their media time from formats like podcasts to audiobooks.
expand
Q: What are the subjects and genres that UK audio audiences favor most?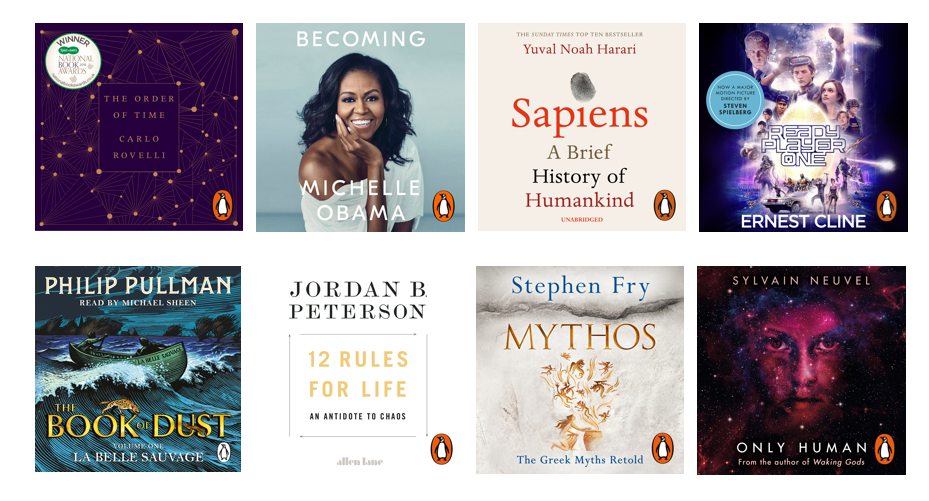 A: UK listeners love smart Non-Fiction, with psychology and business performing strongly. 
MYTHOS
, brilliantly read by Stephen Fry, was our biggest title in 2018, followed by
12 RULES OF LIFE
 by Jordon Peterson and Yuval Noah Harari's
SAPIENS
. Adult Fiction makes up the largest proportion of our turnover with Crime and Thriller titles consistently leading the charts.  Science Fiction over indexes so we're always on the lookout for new rights we can ambitiously publish, like the award-winning series by
Sylvain Neuve

l
we produced with over 14 actors on one title.  We're also continually promoting titles like 
READY PLAYER ONE
by Ernest Cline which has proven to be such a huge hit in the U.K. It's encouraging to see that since Apple relaunched their audiobook offering in December, they are already providing a point of difference to Audible and are able to achieve a higher share in memoir and comedy. And of course biographies by well-known names who read their own work perform strongly in audio. It was brilliant to end the year with
BECOMING
as our fastest-selling audiobook yet.
Q: In addition to audiobooks, you are also producing podcasts. Could you expand on how podcasting overlaps with audiobooks?
A: We know from our audience research that there is significant crossover between the audience who consume our audiobooks, and the podcast audience, with nearly three quarters of audiobook listeners also listening to podcasts. For us, this presents a huge opportunity to convert podcast fans (who we call "active listeners") into audiobook consumers.  So as well as advertising and promoting our audiobooks on podcasts, our publishing and audio teams have worked together to create our own podcast content to build this bridge. We've found this works particularly well where the author has the right profile for podcasting and their title lends itself to broader conversations about a topic or issue. In this way the podcast compliments the book, rather than replacing it, and gets listeners excited about listening to or reading the title.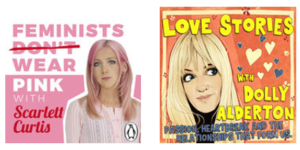 A great example is 
Love Stories with Dolly Alderton
, produced to coincide with the launch of Dolly's book 
EVERYTHING I KNOW ABOUT LOVE
. The podcast, which is now in its second season, reached number 1 on the UK iTunes chart and has had nearly 2 million listens. The audiobook has been a perennial bestseller and we're confident that the podcast has played an important role in its success. Similarly, the 
FEMINISTS DON'T WEAR PINK
 podcast was launched last Autumn with Scarlett Curtis, to coincide with the book of the same name. The podcast has had hundreds of thousands of listens and sales estimates for the title both in print and audio have been exceeded.